With the continued interest in all things 'adventure', it's no surprise that more and more manufacturers are latching on and launching their own products in the hope of gaining a slice of the market … and it's probably fair to say that luggage is the product most commonly brought to the table. I've tested and written about luggage from the lower end of the price scale before and when I have, I've generally been pleasantly surprised. Obviously there may be some compromises but mostly, the items I've tried have fulfilled their designated role well and they've done so at a price well below what we might have considered 'budget' not that long ago.

Pod Sacs is a name some of you might be familiar with from outdoor and climbing associations long past. The brand is now owned by Planet-X who've launched their own luggage under the Pod brand. Now, there's only so many ways of attaching luggage to a bicycle and only so many places to put it. Pod have got the three prime areas covered – under the saddle, on / in the frame and on the bars; I thought we'd have a look at their 'Barrel bag' bar harness.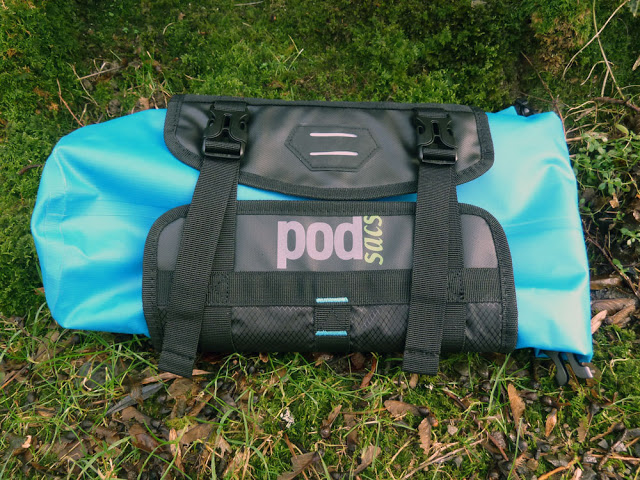 Rather than being a dry-bag with mounting straps, this is a separate harness that then holds a dry-bag. Some people prefer one system and some prefer the other. Personally, I find the two piece approach is usually more stable and increases the versatility as dry-bags can be swapped depending on just what needs carrying.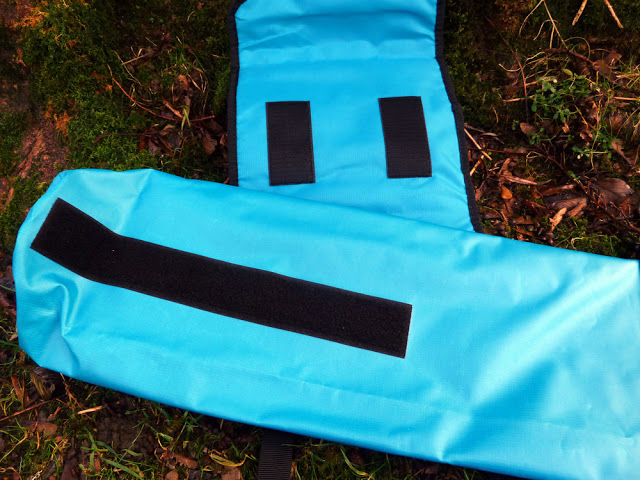 Velcro strips help prevent any accidental dry-bag slippage.

Unlike some harnesses, the Pod actually comes with a dry-bag. The claimed 8L capacity of the dry-bag seems about right but if you're a bit of a serial over-packer, then simply swap it for something a touch bigger. Cunningly, both the outside of the dry-bag and the inside of the harness feature hook and eye strips (I'm calling it Velcro from now on, okay?) – quite obviously, these aren't intended to 'hold' the dry-bag in place, the harness does that but they do prevent it from slipping to one side. It seems to work very well and I have found that it helps make fitting the bag into the harness less of the three handed affair it can sometimes be.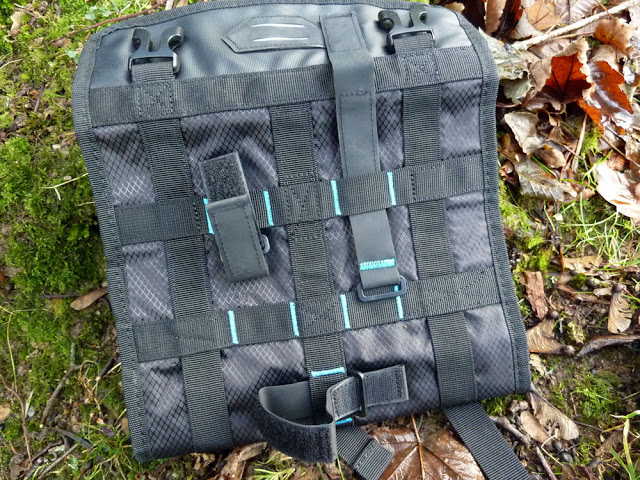 Mounting straps – 2 for the bars and a third for the head-tube.

On the rear, you'll find lots of webbing through which three velcro / hypalon straps run – two for going around the handlebars and the third for the head-tube. While offering enough security, I have found that the bar straps could do with a wider range of adjustment as they won't tighten fully around a set of bars. On the rough stuff, it makes the harness a touch less stable than it might otherwise be but on tarmac and gravel you're unlikely to notice much movement … a couple of short lengths of foam pipe lagging have proved to be a reasonable solution to take up the difference between bar and straps should you encounter any unwanted bouncing about while getting gnarly or radical.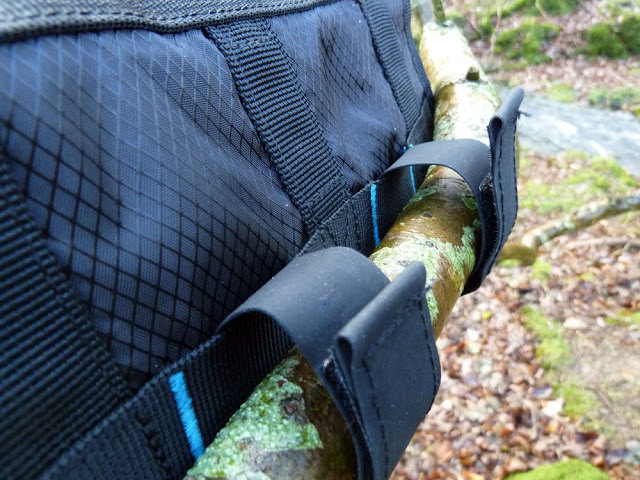 While secure enough the bar straps could do with more adjustment … or some spacers.

8L can come in many shapes and the 8L of the included dry-bag is of the longer / thinner variety. That should suit those with suspension forks and minimal tyre clearance but those with narrow drop bars may need something shorter and more portly. At full capacity the dry-bag measures 19″ long but with a diameter of only 6″; whether that suits your particular requirements, only you can say but the harness will certainly accept something fatter without any complaint.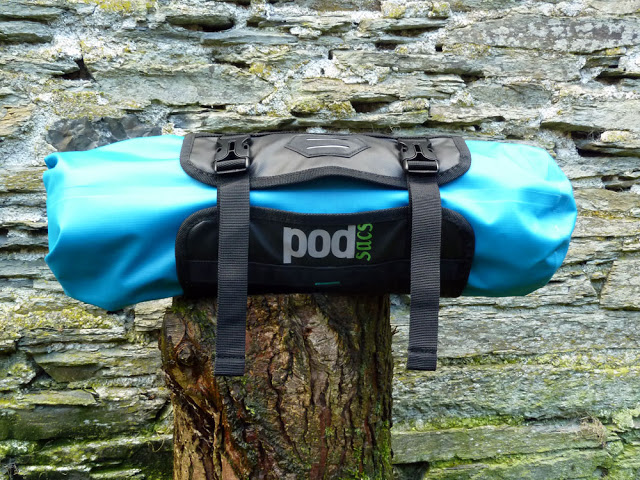 19″ long, 6″ in diameter and about 8 litres of storage.

The materials seem fine as does the workmanship. There's some nice detail touches like the Velcro patches and a clip-on light mount. It's not the most stable option for heavy duty off-road use but it's not going to come lose or fall off anytime soon either. It will carry your kit and the included dry-bag will prevent it from becoming a soggy mess. Overall it's a good useable package that within reason should cope with whatever you can throw at it. If it cost twice the amount it does all the above would still be true, so at just under £20 I can imagine we'll be seeing a lot more of these strapped across handlebars in the future.

Available from On-One