Up the wooden hill to Bedfordshire is a lovely expression, a way of coaxing tired children upstairs and into bed. Sadly, the bikepacking equivalent of, 'up the steep, wet, rocky track for three miles before lying down behind a wall' doesn't quite capture the same romance and actually sounds much more like the prelude to a rather unpleasant night.
Dingy, dark corner … I've slept in far worse.

I think, most of us have long since learnt that even the roughest of 'roads to nowhere', the ones that really do lead to long forgotten, dingy, dark corners, can still provide a perfectly serviceable overnight retreat … just as long as we're armed with the right shelter.

Back in March, I introduced the Six Moon Designs Gatewood cape and promised I'd return once we'd spent some time getting to know each other. Well, we've become fairly well acquainted over the intervening months and I think it's fair to say that we've been getting along pretty well. If you've bothered to click on the link above, then you'll be aware that the Gatewood Cape is a single skin pyramid shelter, that should you wish, can double up as a cape. As with many ultralight shelters, the Gatewood comes without pole or pegs and when placed on the ever so sophisticated Bear Bones digital scales, produces a readout of 347g. The Pole-A-Bear, 5 section carbon pole (other poles are available, although they might not be as good) adds 75g and 6 pegs of your choice will likely take the entire package to around 480g. That's not a lot of weight for something that offers full coverage and enough room to not only sleep comfortably but also to store gear and dare I say cook as long as you're careful.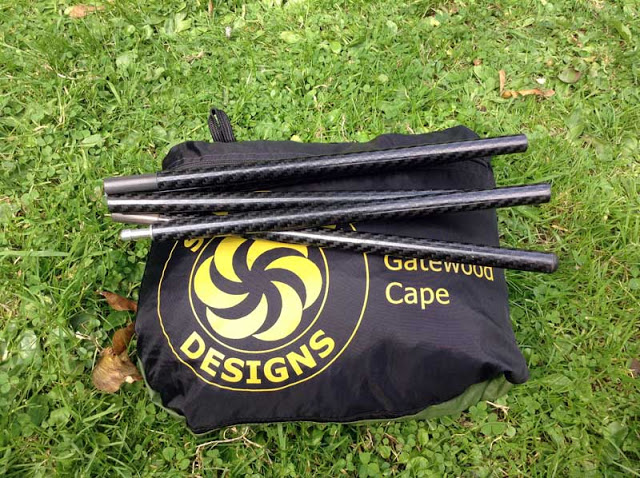 22cm long x 18cm high x 12cm deep but it'll easily compress to half that.
When you first unpack the cape, it can look a little complicated but as we know, looks can be deceiving. At the top, there's a colour coded webbing harness that clips to the main body. The harness acts as a locator for the pole and can be left in situ even if you want to wear it as a cape. A single 2 way zip indicates the the front along with a long guy-line. Toward the bottom of this line is a hook which is tied to it with a prusik knot … the prusik slides up and down the line but locks into place when force is applied to it. Tabs on the bottom edges of the 'doors' clip onto the hook producing a very light and simple way of tensioning the door panels.
The webbing harness means that the material at the shelters apex doesn't come into contact with the tip of the pole. That's good news if you want to wear it as a cape because it gives you somewhere to poke your head through. It's also very useful for those of us who just want to sleep under it, as the hood forms an adjustable peak vent, which I'm pleased to report does actually work.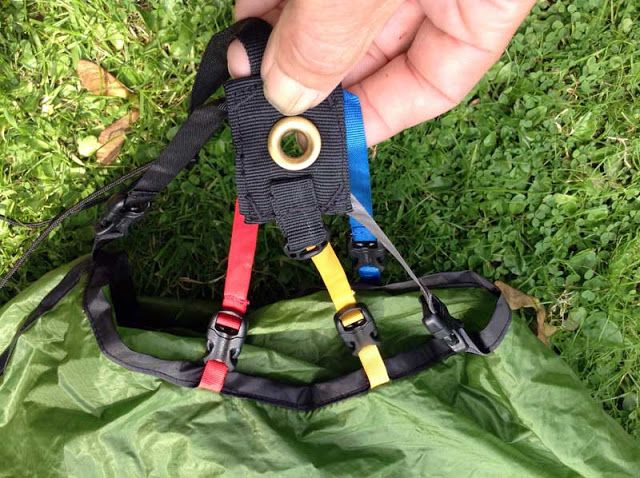 Nearly idiot proof harness for your pole.
Besides the main front guy-line, there's another five pegging points. These are just simple double cord loops and don't feature any type of tension adjustment. I was a little concerned that the cord looked a bit flimsy but in the interests of research I didn't bother to swap it for something better, I haven't snapped one and they all still function fine, so perhaps I was just being a little over cautious. The lack of tensioners hasn't proved to be an issue either … maybe I've been lucky when choosing sites or maybe I'm just really good ;o)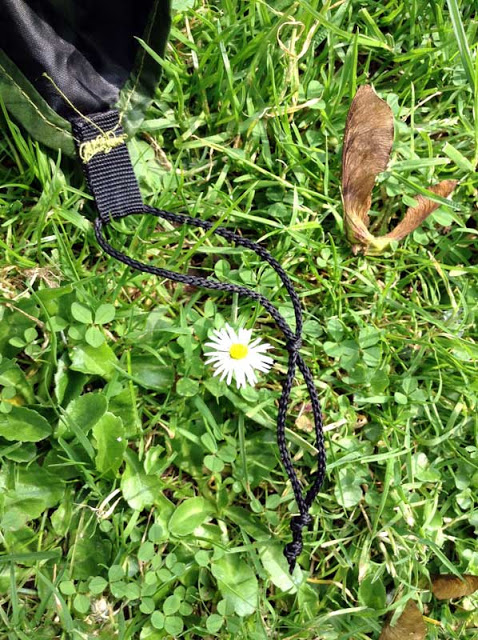 Simple pegging points. Do you need anything else?
Pitching is fairly straight forward and shouldn't be a problem even for those amongst us who can't pitch a flat tarp … peg the two rear corners out, pulling the material tight but not too tight. Now insert the pole into the harness, stand it upright and peg the main guy-line out. Peg out the two front corners, then lastly peg out the mid point along the back edge. I find it pitches better if the doors are closed or the left hand door (as you're looking at it) is clipped onto the front guy-line. It is a little fussy with regard to pegging out, so if you want a near perfect, taught pitch with no flappy bits, you'll likely need to adjust the pegging points once it's standing. Even so, it's still only a matter of a couple of minutes from bag to bedroom.
I'm not a fan of stuff sacks, I generally find that they prevent me from packing things well and I often find them a little too snug. The Gatewoods stuff sack is very different. Firstly, there's plenty of room in there, never once have I found myself rolling around a damp forest floor wrestling with the thing but better than that, is the fact that the stuff sack transforms into a really useful zipped pocket inside the shelter. I know that doesn't sound like a genuine reason to break out the party poppers but I've found it really useful … torch, glasses, lighter, phone, all those delicate items you'd like to keep safe and on hand now have somewhere to reside, somewhere where you can't roll over and crush them at 3am!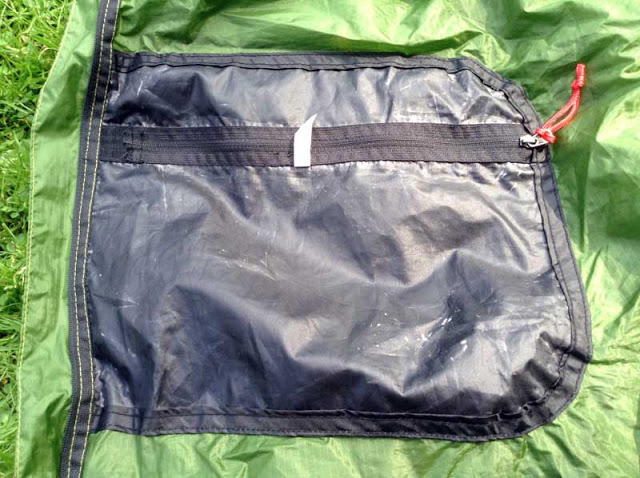 A pocket, a pocket, ooh a pocket!

Having spent quite a few years sleeping under what we might describe as conventional tarps, I've mainly spent my nights under the cape with the bottom door open … only one door has a tie-back and I have my feet at that end, hence 'bottom' door. Sleeping like this still provides plenty of coverage and importantly helps minimise any condensation issues. Used like this, I've not experienced any condensation at all. With both doors fully closed, a bit of a breeze and the apex vent wide open any condensation has been minimal, in fact the only time I ever had anything noticeable was on a wet night with the doors shut and the vent reduced to a tiny hole … which is exactly what you'd expect and no different from any other single skin shelter. There's very few seams on the cape, the back and sides are one piece but what there are aren't sealed. In my opinion sealing them isn't necessary, it's a horrible job and adds weight. I've not noticed any leaks even in heavy wind-blown rain, so I don't think I'll be troubling the Silnet anytime soon.

The only real criticism I have is the quality of some of the sewing. Don't get me wrong, the thing's not falling apart but there are a few loose threads and missing stitches. It's more than likely a consequence of SMD switching production from the US to China, which also means that quality could be a bit of a lottery and it's quite possible mine was put together by the tea lady in her lunch hour. Given how well the cape works, it's more a niggle than a concern but having owned US made SMD products in the past and knowing how good the quality was, it's a bit of a shame.

Stitching concerns aside, the Gatewood Cape is a good shelter. It's a great introduction to 'tarps' for tent dwellers and adds a little luxury for those already using tarps. It's stable, light, easy and quick to pitch and provides a haven in those long forgotten, dingy dark corners we sometimes call home.

Six Moon Design