They say, 'money can't buy you happiness but it can buy bikes and that's near enough'. It's a reasonable argument but for the majority who inhabit a 'real world' that isn't full of six figure salaries and country mansions, it's a philosophy that they probably won't be able to embrace fully. While appealing, it's likely that a dose of reality will water the sentiment down somewhat but that doesn't mean your cycling life should be any less fulfilled, satisfying or happy … you just need to find the right bike.

I was going to begin this review with the above paragraph. I'd then planned to continue by saying, how a bike costing £750 had changed all my notions of value and pushed my other bikes into a state of semi-dormant retirement in the corner of the workshop. To finish, I would have added that the bike in question was a Pinnacle Ramin 3+. In part one of this tale, I made much of the Ramin's price tag and I recall joking with people that I thought the bike was too cheap and that perhaps Pinnacle should raise the price. Well, they must have heard me because, they have. The Ramin 3+ is now £900 but after a little consideration, I can honestly say, that everything I've written so far stands and the Ramin still represents superb value for money.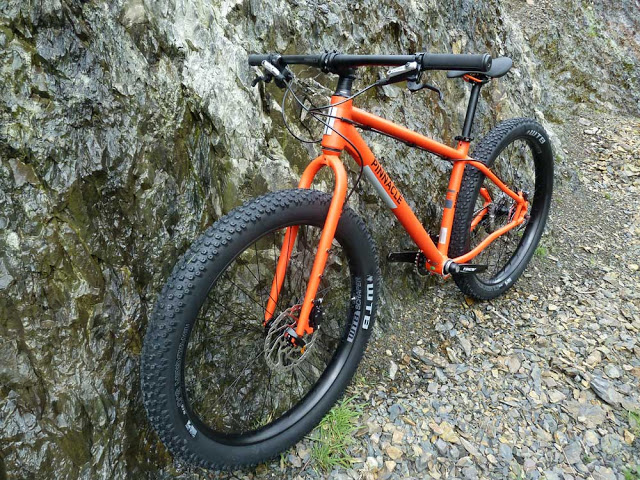 In July, I promised to return after a few weeks and let you know how we were getting along. It's been more than a few weeks hasn't it? This delay in furnishing you with my thoughts isn't the result of laziness or a dose of lethargy on my part, no, the blame for my non-return lies squarely with the bike. It hasn't broken or required a continual regime of time consuming maintenance, on the contrary, the bike's to blame simply because I love riding it and really don't want to give it back. As someone who will usually try and justify owning many bikes by telling those who might question it, that each fulfils a specific role and just as you wouldn't expect a chef to only have one pan, I can't be expected to only have one bike, the Ramin has come as a bit of a surprise. As you might expect, I've loaded it up and bikepacked on it but I've also ridden it on purpose built man-made trails, used it for the three mile trip to the shop and to some peoples surprise, I've even used it for coaching duties. At no point throughout those varied miles did it ever feel ill suited or out of its depth, it just did what a bike's supposed to do and worked.

I've not made any alterations, additions or subtractions from the standard spec', everything has remained exactly as it was when the bike arrived … in common with most 'plus' bikes, the Ramin benefits from a little experimentation with tyre pressures. If you're new to it, then seeing the pressure gauge drop below 15psi might take a little getting used to but stick with it. I'm usually a 'give it a squeeze' type of guy but in the interests of accurate journalism can report that I settled on 12psi front and 14psi in the back; with the addition of luggage, I increased that by 2psi in both tyres. The WTB Scraper rims provide a very stable platform for the tyres and allow you to explore the lower limits of pressure and the highest realms of grip without too much concern. While not the lightest B+ tyre, the 3″ Bridger fitted to the front always managed to find grip no matter what surface it was rolling on. In comparison, the 2.8″ TrailBlazer at the rear isn't a particularly grippy tyre but trail reality, dictates that it doesn't really have to be. The width of the rim does produce a slightly 'squared off' tyre profile on the TrailBlazer, which can leave the sidewalls a little exposed to rock but if it's a concern, you'll be glad to know that there's room between the chainstays for something a bit wider.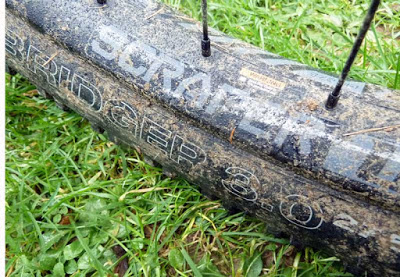 A near perfect combination … even under all that mud.


When the question of frame material arises, I tend to favour the steel camp. I'm not going to come over all evangelistic about it but you can love a steel frame and that's something you can't do with aluminium. The Ramin's frame is made from aluminium, so obviously I don't love it but I do like it. There's some nice touches like the ebb (which incidentally has never once creaked, slipped or complained), the additional bottle bosses on the downtube and removable cable guides … they all say attention to detail and forethought. The seatpost is 27.2mm but the seat-tube isn't, taking up the slack is a shim. It's fairly common practice as the smaller post provides a little more flex, yet a dropper post can easily be fitted should you wish. I have heard a few mumblings about the seatpost slipping but it's not something I've experienced, however I do know that a 5mm allen key and a bolt-up seat clamp has removed any issues.

The Ramin's contact points are Pinnacle's own brand which I'm sure some people may feel lack a little 'ooh ahh' value but if you stop listening to your inner bike snob for a moment, you'll quickly realise that they're actually rather good. The flat bars are fashionably wide enough at 730mm as not to offend anyone and have just enough back-sweep without looking in any way 'alternative'. Holding them in place is a 60mm stem perched on top of a stack of spacers large enough to allow some alteration in height should you wish. With your hands taken care of, you'll need somewhere to perch. Obviously saddles are a very personal thing and my arse is generally as fussy as the next, preferring something hand-made and Italian; I've received no complaints from downstairs at all, so I'd suggest you give it a go before resigning it to the spares box.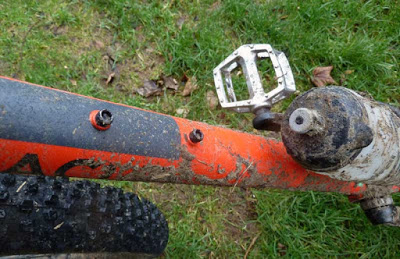 Additional bottle bosses may be unusual but could prove useful.


If you've bothered to read part one, you'll already know that the brakes are supplied by Shimano and the 1 x 10 drivetrain is a mixture of Shimano and Sram with a KMC garnish linking front to back. As you might expect, not only does it all work, it all works well. However, if you live somewhere on the mountainous side of hilly or your legs are accustomed to the easy spinning afforded by a 22 up front, you might want to make a small alteration to the standard gearing … a 40 tooth cassette perhaps or a 30 tooth front ring to replace the standard 32? There is provision for a front mech' if you're that way inclined but my experience tells me that a switch to 2 x will likely limit you to a 2.8″ rear tyre. If you inhabit the other end of the scale, the ebb will allow a quick, pain free switch to single-speed and your transformation into bikepacking superstar.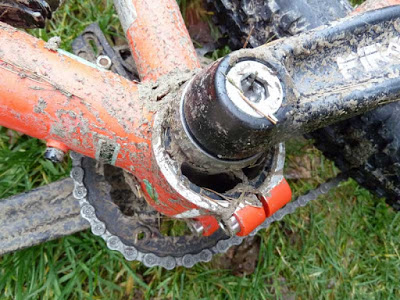 Want to transform it into a 29er? Simply rotate and fit different wheels.


The actual ride is a difficult thing to describe. I could use words like 'neutral', 'balanced' and 'forgiving' but then I'd just sound like another bike journo' with nothing useful to say. No, the ride probably does convey all those things but you're really not aware of them. The feeling is one of simply riding a bike, it doesn't require any specific input from you, it just rolls along seemingly untroubled by the ups and downs and unhindered by the idiot sat astride it. It's not a bike you have to concentrate on, you're not required to make alterations or allowances … you just ride it in an almost oblivious state of ignorance. That may sound odd but is in fact a real compliment. If you're already familiar with rigid bikes then you should appreciate how 'un-rigid' the Ramin feels and those new to its delights should also find themselves pleasantly surprised. Now don't get me wrong, rigid is still rigid but the tyres and steel fork remove a lot of the inherent rigidness that you might be presently used to or anticipating … it's no 6″ full susser but it's not harsh either.

Over the years, I've been fortunate enough to have ridden quite a number of bikes. Some of them have been what might be described as 'high end', 'boutique' or 'exotica' and in performance terms the Ramin isn't better than them, although in most 'everyday' situations it can hold its own. However, when you start to alter the parameters and begin to factor in cost against performance, the Ramin very quickly surpasses just about every single one regardless of how many superlatives are hung from them. I realise that probably sounds a bit gushing and perhaps there's a little inverse snobbery on my behalf to consider but if you want a bike that doesn't cost the earth, is versatile, easy to maintain and importantly, makes you smile (it even makes me smile), then you might just have found it.

Ramin 3+ available HERE.

In case you're wondering why there's been a price increase, this, direct from the horses mouth should explain things. It's something which we'll have to get used to I'm afraid.


From our side, we're disappointed to put prices up. It's an impact of the weakening of the pound against the dollar and compounded by yen strengthening against both currencies – the bike is bought in dollars and most of the Shimano in yen. In time we can move production, tweak specs or try and work with suppliers but the speed of the devaluation after Brexit means that we couldn't react in time for 2017. We've held out in the hope the currency would return but as it shows no signs, alongside a number of other suppliers we're having to react.
Pinnacle Bikes.