In bikepacking nirvana, we'd all ride round carrying no more than what we're stood up in but we don't live in a grunge rock utopia, we live in the real world, one that's often far grungier and not always so agreeable … if we want to stay warm and fed, then carrying a certain amount of stuff is a prerequisite. There's very nearly as many ways to carry things on a bicycle as there are things to carry. I won't bother to list them or bore you with a run through of all the possible combinations that exist. I will simply say – here's another option to consider.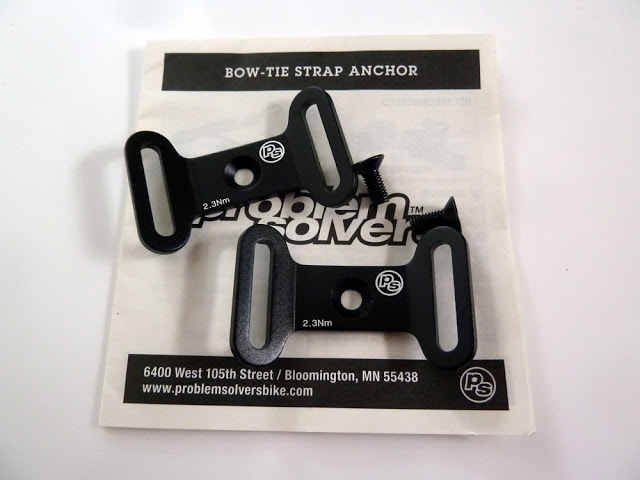 Bow-Tie strap anchors attach to any standard threaded boss on your bike's frame or forks. Once fitted, you can thread straps of your choosing through the slots on the anchors and secure all kinds of aforementioned stuff. Water bottle, food, cooking kit, jacket or whatever else takes your fancy.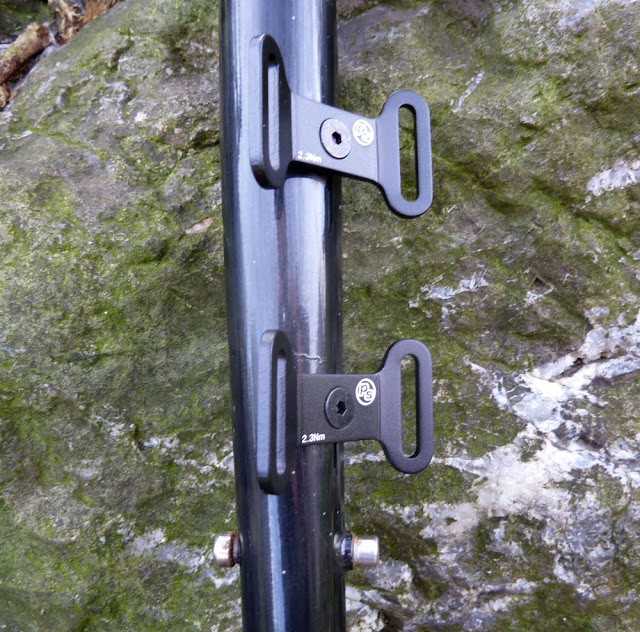 Even an unskilled primate can fit them in a few seconds.
They're made from anodised aluminium, weigh 21g a pair and have a maximum weight limit of 3lb or 1.35kg in new money. The slots will accommodate straps between 12mm and 27mm wide, so you shouldn't have too many problems locating something suitable. As you can no doubt imagine, fitting takes mere seconds and is no more complicated than twiddling an allen key.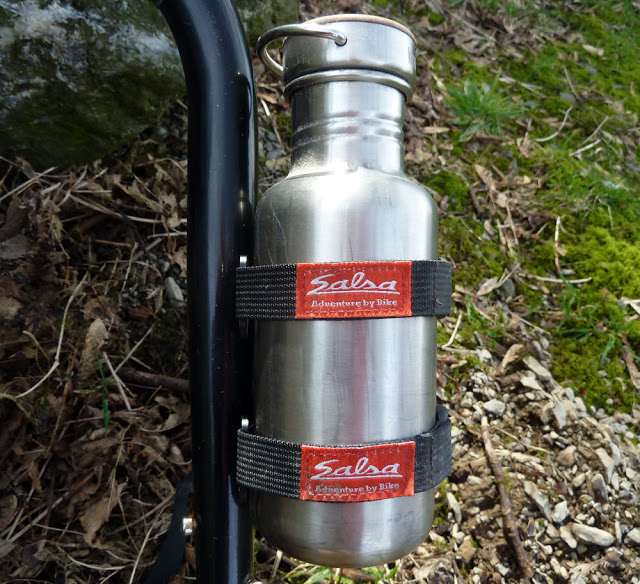 They hold stuff, even slippery stuff surprisingly well.
When not in use, they're very discreet and go largely unnoticed, so even the most particular amongst us can happily leave them permanently attached without fear of bicycle disfigurement and associated shame or reprisals. While they probably don't offer the security of a full cage, they do hold things surprisingly well given their lack of bulk. The degree to which they hold something in place will obviously depend on what it is but the slippery stainless water bottle in the picture took some real force to move once strapped in place – I don't think something softer or with an element of 'give' would budge at all once secured. Maybe the addition of some small pieces of rubber glued on, would add additional grip and ease the concerns of anyone worried?

All in all, a simple and neat way to carry that bit more when conditions demand it and make use of all those braze-on fittings littering your frame and forks.

£14.99 HERE