Description
The 22g stove is still only about half the weight of most lightweight meths stoves. Its larger fuel capacity makes it ideal for those times when you need that bit more water. The bigger diameter makes it stable enough to handle pots from 80mm up to 150mm. Much development time has been given to the engineering of the jet configuration, the dual jet pattern helps maximise efficiency and decrease potential 'hot spots' on the pot base.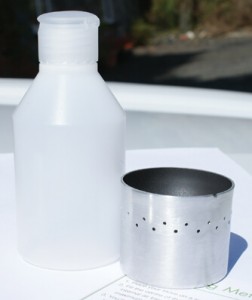 The 22g is supplied with a 100ml fuel bottle and instructions.
Specifications
Weight: 22g.
Dimensions: 50mm wide x 43mm high.
Maximum fuel capacity: 30ml.
Average total burn time from blooming: 10 mins on 30ml fuel.
Intended pot diameter: 80mm – 150mm.
NB THIS PRODUCT IS MADE TO ORDER