Admit it, we all like that new bike feeling but it's a habit that can be expensive to feed. Sure, there's cheap bikes out there and a hundred of your British pounds will buy you a bicycle … or at least something resembling a bicycle. It's unlikely to last very long and will probably eat up four times the initial purchase price in replacements and upgrades within the first six, colourful weeks of ownership but it's still a bike.
Should you frequent the other end of the scale, manufactures are more than happy to taunt what common sense you have left, with five grand 'super bikes'. They're lighter, faster, more bouncy or more rigid and more expensive that anything you've seen before … but sadly, you'll still be riding it and hand on heart, all the marketing and spin in the world can't change the fact that, you're generally a bit crap.
I think, what most of us really need is a bike that doesn't implode the second you show it a fire road or leave you with an overdraft the size of China's national debt. A well thought out design incorporating quality components, something that compliments your riding rather than highlighting its shortcomings. A bike that can be loaded up on Friday and ridden 200 miles by Sunday or hooned round the woods on Wednesday night for an hour after work … an impossible dream? No, not if you know where to look.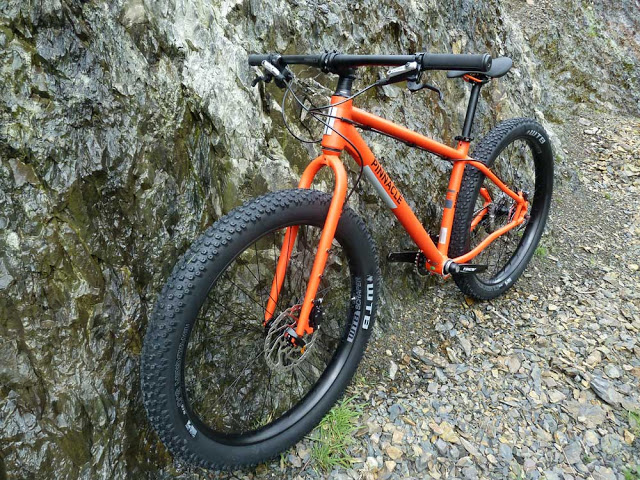 For the last couple of years, Pinnacle's Ramin range has kept surprising me. Proving themselves to be versatile, well specced, capable and very hard to beat in the value for money stakes – in fact, they're a similar bike to the one I've just described above. This year Pinnacle have introduced the Ramin 3+, a bike that was probably designed with YOU in mind.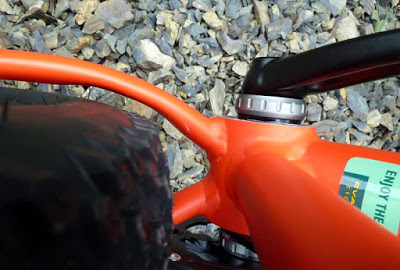 Plenty of clearance … even for the worst UK summer.

Straight out of the box, the Ramin+ is fairly striking, dressed in it's 'not quite orange, not quite red' satin livery. It's not subtle but once outside under natural light, it's not that gaudy either. The aluminium frame incorporates some nice touches including three sets of bottle mounts, shimmed seatpost, bolt-on cable guides and an ebb. Propping up the front end, is (thankfully) a steel fork and on each leg you'll find a set of three bolt cage mounts.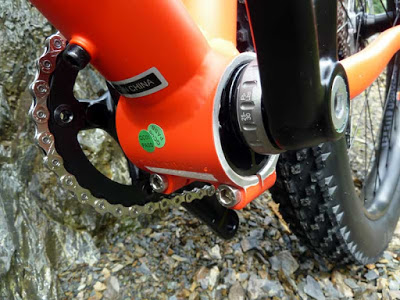 ebb's a nice touch for single-speed and hub gear fans or those who like to fiddle.

Your physical efforts are transmitted to the ground via Sram Firex cranks with a 32t ring, KMC chain and Shimano 11/36 cassette. Should your legs become tired, a Shimano shifter will transmit your desire for an easier time to a Deore Shadow + rear mech'. It's simple straightforward stuff that won't cause you any grief or let you down. There's a bottom bracket mounted chain device nestling in there too, it's pretty unobtrusive but if you wanted it gone, a quick switch to a thick / thin profile ring would see your wishes granted.

When gravity takes hold and progress becomes a little faster than is comfortable, a pair of Deore stoppers with sensible 180mm front / 160mm rear rotors, will quickly bring you down to a more sensible speed. The contact points and finishing kit are Pinnacles own and appear well suited to the task in hand.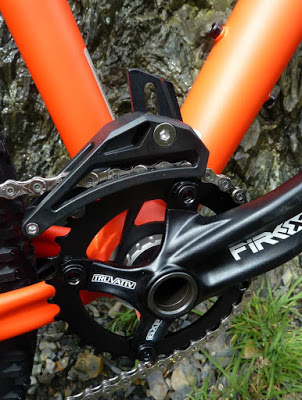 Don't worry, your chain's not going anywhere.

One of the most striking things about 'plus' bikes is obviously the wheels and tyres. I'll admit to being very surprised here, I was expecting the tyres to be wrapped around unbranded generic rims but no, the Ramin+ rolls on WTB i45 Scraper rims. I'm still struggling to get my head round quite how a bike costing this much and showing no obvious spec' downgrades can be equipped with such desirable items. However, mine is not to reason why, so I'm just happy to accept the fact and move onto the tyres.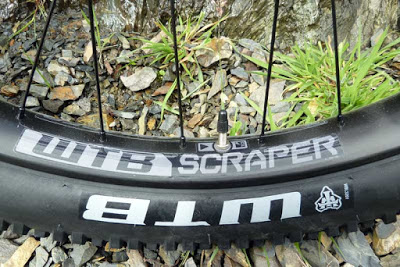 Do you know how much these things cost?

WTB rubber is fitted in the form of a 3″ Bridger up front and a lighter, faster rolling 2.8″ TrailBlazer out back. It's a good combination that places the rubber where you need it most and helps reduce the potential negative effects plus sized tyres can produce. Although fitted with tubes, both rims and tyres are tubeless compatible, so a conversion is both cheap and painless.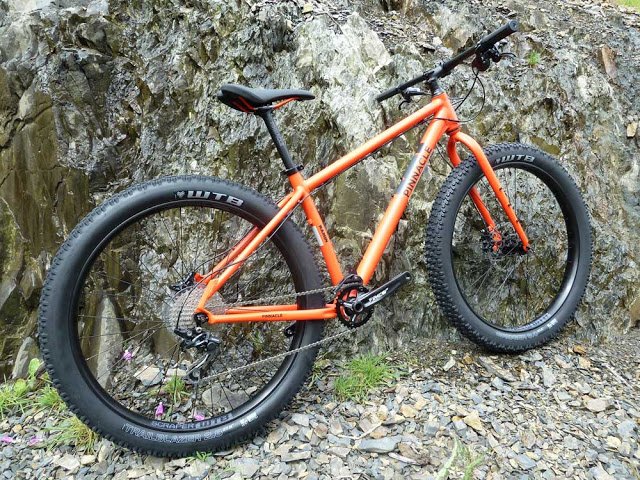 Be honest, hasn't that got 'FUN' written all over it?
So, that's it, the new Pinnacle Ramin 3+ straight out of the box. It's not going to fall apart beneath you, nor will it cost a fortune to maintain. It will transport you across moors and mountains or down to the shops for a paper but best of all … it'll only cost you £750. Surprised? I was.
We'll be back in a few weeks to let you know how we're getting along but if your 'add to basket' finger's itchy and you can't wait, you might want to go HERE.