The world has many names to describe the latest incarnation of drop-bar, wide tyred, do anything bicycles but my personal favourite is 'Gravel Bike' – I like the term, it's compact, direct and uncomplicated. There's no ambiguity or confusion attached to it and even just whispering the name produces a feeling of solid, workmanlike certainty. It conjures images of America's mid-west, thighs like trees and people wearing caps beneath their helmets … emotive and aspirational stuff. However, I can't help but feel that 'Gravel Bike' carries with it some less desirable baggage, especially for those of us more likely to find ourselves in Kettering than Kansas and it's the problem of 'limitation'.

Some people will tell you that a 'drop-bar, wide tyred, do anything bike' should be made from steel while others will advise titanium, aluminium or even carbon. It needs to have clearance for 38c tyres or maybe 42c or should that be 2″? Gearing should be road based, mountain bike derived or a mixture of both perhaps? Bars should be noticeably flared and very wide or they could be less flared and a bit narrower. Wheels should definitely be 700c and without question 650b too – Really, none of that matters, it's all just fluff round the edge because whilst a 'drop-bar, wide tyred, do anything bike' can be many things, there's only one thing it should always try not to be and that's – limiting. Buying a 'Gravel' bike in the UK and confining yourself to only riding it on gravel would be just as mad as buying a 'Grass bike' a 'Mud bike' or a fat bike and then expecting three months of endless snow. No, our realm is much more diverse and your bike and its title should reflect that. Remember it's meant to be a 'do anything, go anywhere' bike and as much as it pains me to admit it, a Gravel bike is far too specific a name – it impedes when it should facilitate and limits where it should liberate.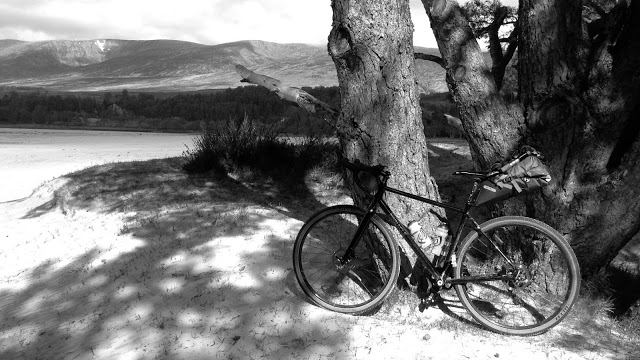 Obviously, 'drop-bar, wide tyred, do anything bike' is quite long-winded and rolls off the tongue like setting concrete, so we need another name. I know, what about 'All Road'? Maybe, although it does kind of imply that you can only ride it where there's a road available, so again, perhaps it's a little limiting in its outlook. Okay then, 'Adventure bike'? Uhm 'Adventure' – a word robbed of its value and lately corrupted beyond recognition … but I do accept that one man's adventure is another man's brisk walk to Waitrose. So, if we agree that 'adventure' means actual adventure and not a night in a heated yurt with Pippa, Tristan and two bottles of slightly chilled chardonnay, then in this instance, I think it'll probably work.

As much as I'm sure you're enjoying this literary meander, you're probably also wondering what I'm going on about and where it could possibly lead … and having just re-read the last three paragraphs, it's a fair point; I'll try and speed things along a bit. The Pinnacle Arkose has being around a long time, ten years, which in bike model terms is a rare thing indeed. Over the course of its life, the Arkose has obviously undergone changes but they've been applied with a healthy dose of 'if it ain't broke, don't go breaking it' type thinking – a refreshing change in an industry seemingly driven by change for changes sake. To mark the 10th anniversary, Pinnacle did what many would do and unveiled a limited edition model but they did it differently to the way some manufacturers would. They didn't simply attack it with glitter and tinsel before slapping a big 'LTD' sticker on it, oh no, just the opposite – they toned it down with a coat of classy stealth black and even stealthier decals. The Arkose LTD doesn't assault the senses but draws you in to the details. It's a cliche but it really is a bike designed by riders for riders and as such, it functions as a whole with each component complimenting the rest. I've ridden a few variations of the Arkose over the years and a greater number of similar offerings from other manufacturers and at this moment, the Akose LTD remains the best.

Best? What do I mean by best? Personal preference obviously plays a role in a decision like this but here I've used the criteria of how 'limiting' the bike is. By its very design and nature, a 'gravel / adventure' bike won't be at home everywhere, they're a bike of compromise but the LTD hides that compromise very well – from road, to forest track to places you probably really shouldn't be riding it. I said before that it's a bike designed by riders for riders but really it's a bike designed by a rider for riders. His name's James Olsen and he was kind enough to answer some questions.


1/ How long have you been involved in the development of the Arkose?
It was introduced to the range as a CX bike shortly before I joined Evans in 2011. The 2012 version had a geometry, tubes and intent revision as I wanted to make it a bit more 'all-road' in that way, we liked it and it's evolved from there.

2/ The LTD is very understated, was it a conscious decision to avoid the less subtle 'in your face' look?
My favourite colour is gloss black, never gets old. It's classic, metal, simple, so many things. But there were lairier ideas trialled. Fades, or it could have had a splatter effect but we did that a couple of years running before the LTD bike. Black powder coat – simple and solid.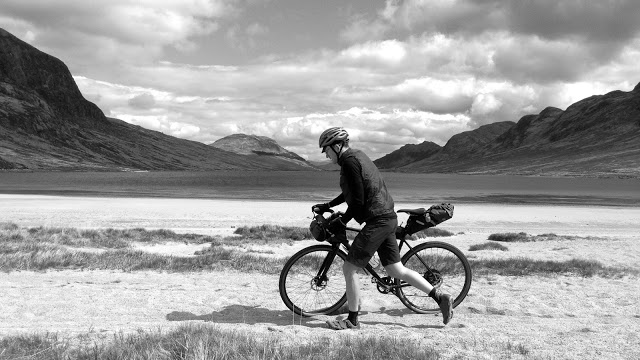 If you're wondering why he's pushing, you've never been here.

3/ Di2, do you see it becoming more popular on gravel / adventure type bikes in the future?
More popular than now, yes. It'll take SRAM to make an Xsynch Etap though, or Shimano to develop their ideas of what gravel bikes actually need. Overall it should allow for more flexibility in set up and that's the basics of gravel/adventure bikes – less of the genre mentality and more ability to mix and match (you know, like 9-speed used to be!)

4/ I know you've a soft spot for 650b and wider tyres – any plans for a 650b specific Arkose?
Yes – the Pyrolite, it's out now, a kind of slightly more road-biased 650B Arkose – or the actual 650B Arkose spec that will be in the 2019 range. Demand isn't fully there yet though, it'll take a while to catch on at the level of 700×35-40mm on a bike like this so we have to make the move at the right time, commercially. Tricky one to judge and it nearly happened this year.

5/ How practical a proposition do you think a bike like the Arkose is for 'bikepacking' in its broadest sense?
Pretty good within fair limits or expectations, assuming bikepacking is long days of off-road terrain. If it's more tracks and roads then it does really well, I enjoy using it as an explorer bike. But I have to admit it can be more fun on the singletrack etc on >2″ tyres.

6/ Do you think the 45c tyres make a big difference to how the LTD rides / behaves and are the public becoming more accepting of wider tyres?
Yes, and the Riddler is a brilliant tyre. I'd say it's the best of the bunch for mixed-terrain use, that I know of. Seems every time you add 5-10mm to the tyre width the bike gets better, yet any more than 45-ish mm on a 700C wheel is getting close to what a 29er is and that's where it gets a bit blurry, road/CX or MTB.

7/ Heavy road bike or light mountain bike – if we had a sliding scale, where would you see the Arkose fitting in?
About at the cross over of heavy-duty road bike to very light drop-bar ATB? I'd say it's a very capable all-road bike, but I wouldn't line it up to the sort of drop or steep, tricky downhill that I'd expect to enjoy on a good rigid MTB. It feels plenty good enough on road and smoother trails to justify that though and it's still playful to ride in the way a mountain biker should pick up on.

8/ It could be argued that, gravel / adventure bikes are simply an off-shoot from cyclocross bikes. Do you think the genre has now found its own identity?
It's getting there, if there is an identity to get to. Hopefully it stays pretty loose. Looking back, CX bikes were a natural and commercial way into selling gravel bikes but perhaps not the best place to start from. Too racy? It's all refreshingly wide open at the moment. It feels a bit like ATB riding was in the mid-late 80s? XC, exploring, being a bit slow and rattly downhill but still enjoying it.. It's open enough that we still call them 'gravel' bikes when we don't have much of that here, 'adventure' bikes when that's happened on old tourers and MTBs for decades already.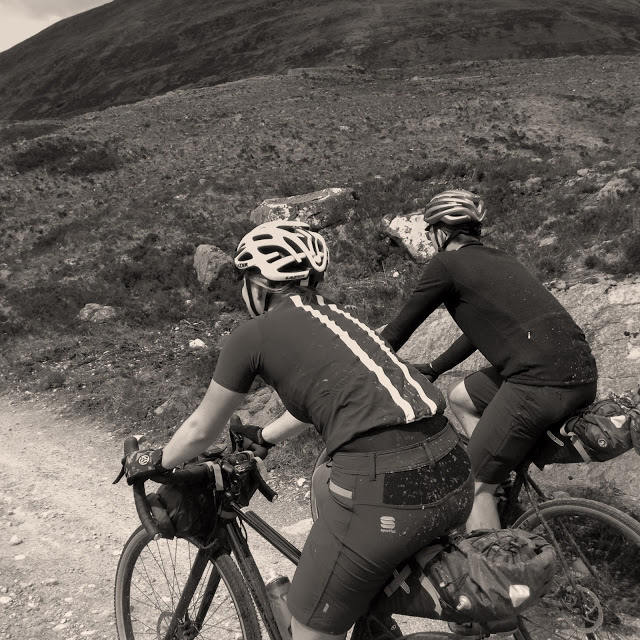 Add bags, go places – lots of places.

9/ Why do you think it is that gravel / adventure bikes have become so popular and captured peoples imagination?
Perhaps the lack of Pro Race element makes it easier to relate to for many and the social side of it appeals. They stop road riding getting a bit too performance-aspirational and open up more options for where to ride. Also very suitable for the skill and terrain many of us have available on our doorstep? But also scope to do the TCR if you feel up to something like that. They make practical commuters too so it's a justifiable purchase. And maybe the Radavist – let's face it, as much as some like to have a pop at 'hipsters', sites like that show that cycling has more scope and creativity in it than the mainstream brands offered a few years ago. I think a part of the gravel/adventure thing is in creativity and aesthetics, influences from a range of cycling and other areas, I like that.

10/ Left to your own devices and with no commercial restraints, what would the ultimate Arkose look like … or have you already built it?
Ultimate for me, or for Evans…? : ) I do have a project bike, trying out some ideas for that perfect all-road drop bar ride, for me. It's gloss black… But I expect the Arkose LTD would outsell it 10x. Some of the ideas from that bike went into the Pinnacle Chromium and Pyrolite models so it's been a useful bike to work on and it keeps the tinkerer in me happy.