Aluminium, steel, carbon and titanium. There are a number of materials used to make handlebars and now you can add grass to that list. The 'Gump' bars from Passchier are made from bamboo and we all know that bamboo is a member of the grass family and not wood as some people believe – don't we? I appreciate that bamboo may seem like an odd choice of handlebar material and its use may raise a number of questions and maybe a few eyebrows but perhaps it shouldn't.
Perhaps unsurprisingly, the first question tends to be, 'is it strong enough?'. Bamboo is quite remarkable stuff, there are over 200 different species and some can grow nearly a meter per day but what's important to us is that, it's a natural composite with a high strength to weight ratio and can be laminated with great success … so you could think of bamboo as 'natures carbon fibre'. In short, yes it's strong enough and it's also a highly sustainable product that requires very little processing when compared to most materials, so that's perhaps another point in its favour.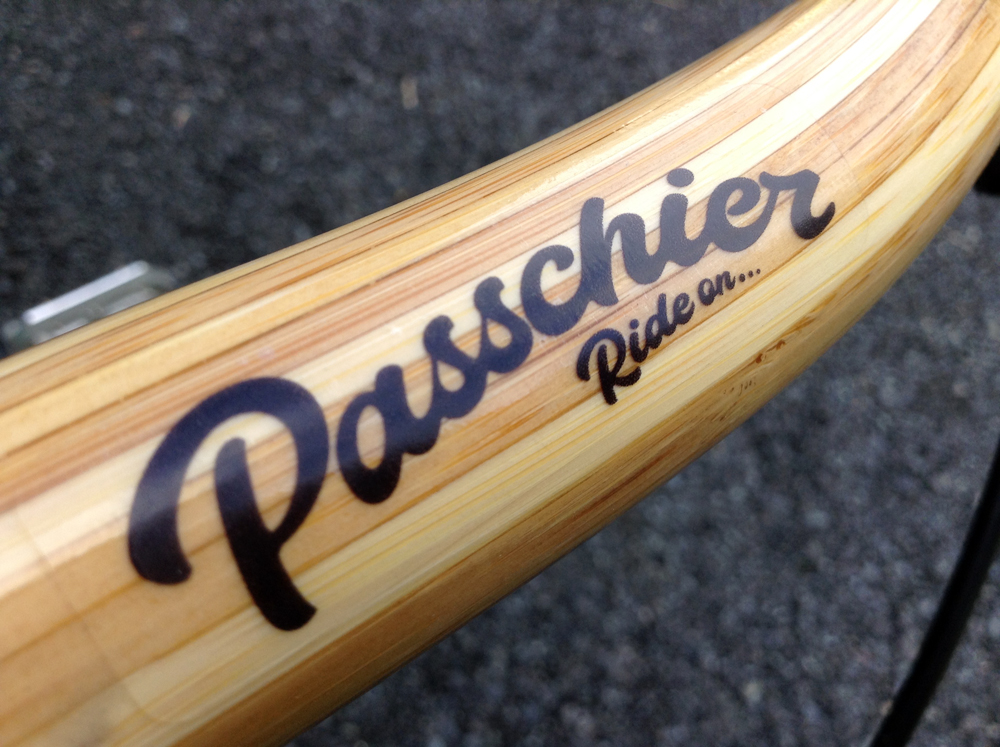 They say that looks can be deceiving but in the case of the Gump bars, I'm not sure that's true. They look stunning. Even those without any appreciation for the aesthetics of crafted natural materials can't fail to see the beauty … I was in two minds whether I should fit them to my bike or hang them on the wall. By the way, these are the 'plain' version but they are also available with a splash of colour if you're that way inclined. Given that they're a solid structure rather than a tube as most bars are, they're surprisingly light – these come in at 328g on my scales. If you think that sounds a lot, go and have a look how much some other popular bikepacking bars weigh. Bar width is something that's steadily increased over the years and while the Gump's may not be the widest at 760mm, they're by no means narrow either. Back-sweep is a comfortable 22 degrees, rise is zero and they fit a 31.8mm stem which clamps onto a carbon reinforced centre section. Should you not have arms like a primate, then a narrower 650mm version is also available.
For me, the real draw of the Gump bar was the promise of increased comfort. Riding a rigid bike for hours or even days at a time can really take its toll on your hands and associated bits. In an effort to maintain some degree of comfort my favoured bars over the last few years have been a pair of Seven Cycles titanium bars in a rather unfashionable 25.4mm diameter. To be fair, they've been great and I've no complaints, so I figured that they would be my benchmark and I'd replace them with the Gump's to see if the grass really is greener. As you'd imagine, fitting is as you would any bar except for the supplied adhesive patches that live beneath the brake levers. I'll be honest, I struggled a bit with these. I have Shimano brakes on this particular bike and trying to spread the clamp wide enough so it would slide over the tape without pulling the edge up proved tricky. However, a brake with a 2 piece clamp such as some Hope's would make life much easier and remove any potential frustration … I say this entirely off my own back … but other than protecting the bar from scratches, I can't see that the patches actually do that much. If I'm wrong, then I apologise for your untimely demise and you'll just have to sue me.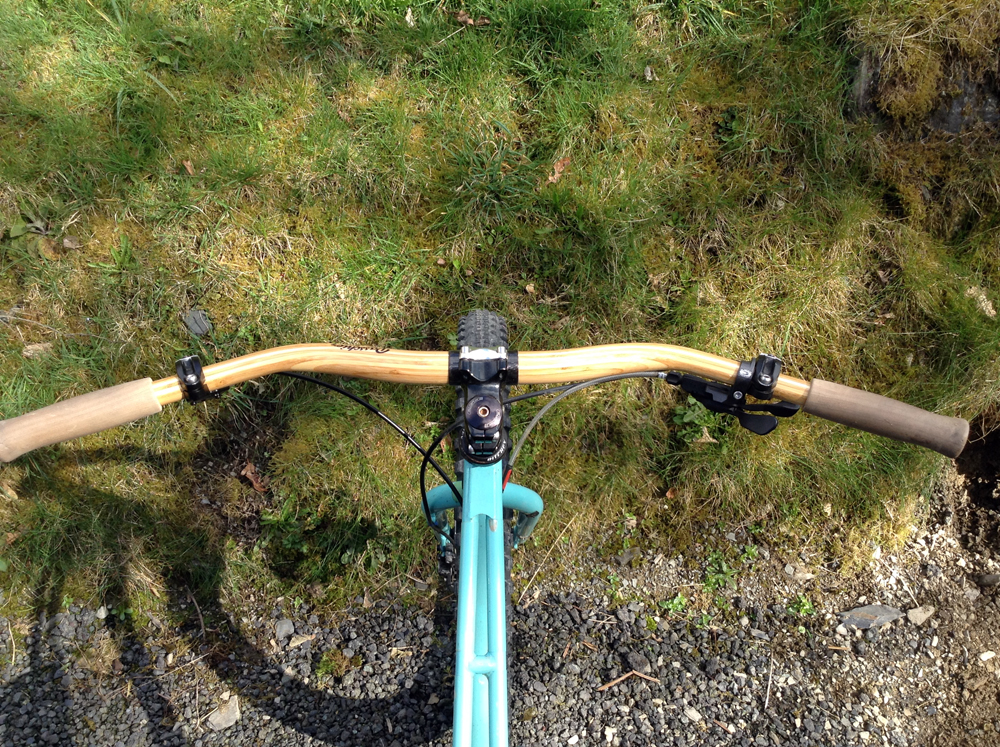 Once fitted, the time honoured tradition of pushing up and down on the bars reveals a small yet noticeable degree of flex or 'give'. It's not alarming, it's simply an indication of things to come. Every way out of Bear Bones Towers that can be considered 'off-road' involves some climbing and here, the bars feel comfortable but not unusual. However, the magic happens once gravity switches sides and you begin the descend. Even with plus size tyres I found the difference to be quite evident. I'm trying hard to think of words and ways to convey the feeling but it's hard to describe. The usual forest road bar-buzz is all but removed but even when you stray from the gravel and onto the lumpier rocks and ruts, the Gump's ability to filter out the worst of the terrain remains. I can't quantify it and I can't back it up with scientific data. It's just a matter of 'feel'. I haven't had these long enough to tell you how they fair long-term when exposed to the elements but I do know that Passchier left a pair outside for two years and they emerged from the rain and sun completely unscathed … so that's good enough for me.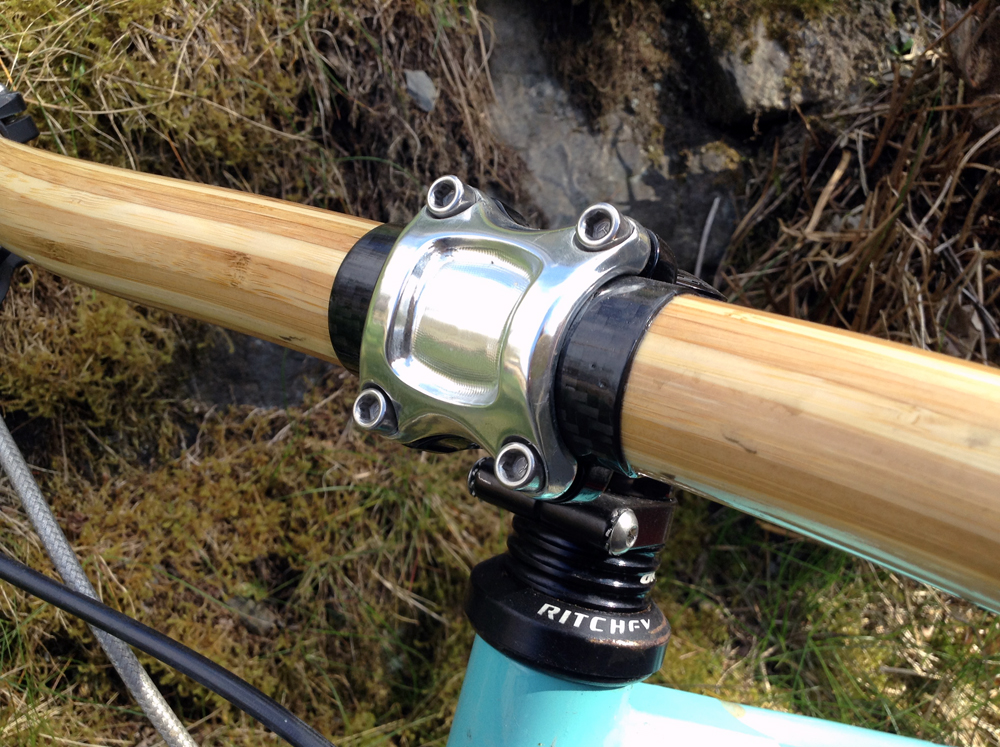 I suppose for most people, the elephant in the room is going to be price. My personal thinking is that it simply comes down to perception and how each of us juggles cost and quality in deciding whether something represents value for money. At the current exchange rate, a pair of Gump's will cost you around £173. Straight away, that rules out a good number of people and that's understandable because no matter how you look at it, £173 is a lot of money. However, it does still leave a reasonable number who might consider spending a similar amount on a pair of carbon or titanium handlebars but who might still consider that sum to be expensive for bars made from bamboo. Why should that be? Well, as I've mentioned – I think it's a matter of perception. We tend to view both carbon and Ti as exotic and / or high performance materials, yet titanium is one of the most plentiful metallic elements on the planet and in reality, carbon is little more than reinforced plastic. My experience thus far leads me to believe that bamboo is just as much a 'performance' material as the other two but I suspect many people will be unable to see beyond the seemingly simple organic nature of it, which is perhaps a shame?
All in all, I'm very impressed. They're beautiful to look at, work as promised and are also something a little bit different. Many people appear to know the price of everything but the value of nothing. However, if you can differentiate between the two, then I've no doubt that you'll also be impressed. I've certainly no intention of removing them anytime soon.