Bikepacking luggage comes in many guises but the Sandro bag from NBP is something quite unique. It may look odd but perhaps looks aren't everything? Eric Robinson was intrigued enough to lay his money down and find out for himself and he's been good enough to share his thoughts … over to you Eric.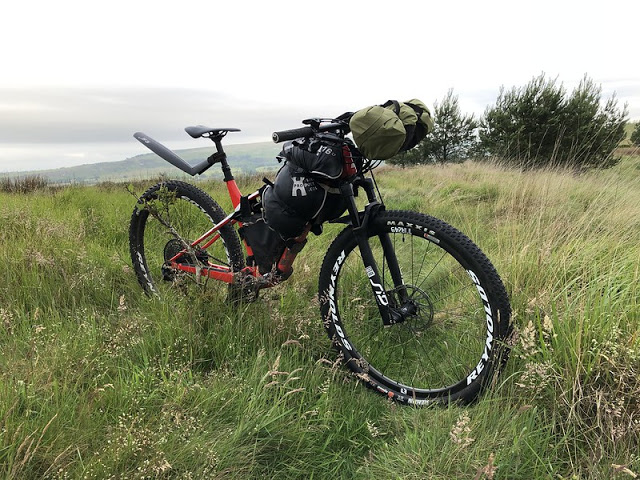 I came across these bags when Sandro posted on the Bear Bones forum. I was interested in his bags because of problems with my front forks dropping a bit (turned out to be a problem with the negative air pressure and is now sorted), but this was before I knew it was the fork itself at fault and wanted a way of removing weight off the fork.


After a few days Sandro phoned me and tried to convince me that knees wouldn't touch. 
I was somewhat sceptical but we agreed I would pay for the bags and if not satisfied he would refund me in full. The bag arrived early March, and I put them on the bike packed with the following – right hand pocket: PHD sleeping bag containing liner, long johns, woolly socks
. Left hand pocket: MLDesigns Trailstar + inner
Blue pocket: Neoair sleeping mat, Klymit Cush pillow, Permavent sheet, Alpkit KLoke bivvy bag
. It was a little difficult getting all that in and it was obviously very bulky but I attached the very full bags to the bike and went up the street. That brief pedal left me very surprised. My knees were almost clear. 
I came back and adjusted my seat, moving it back a bit (5 mm. Up the street again…. this time success. Excellent.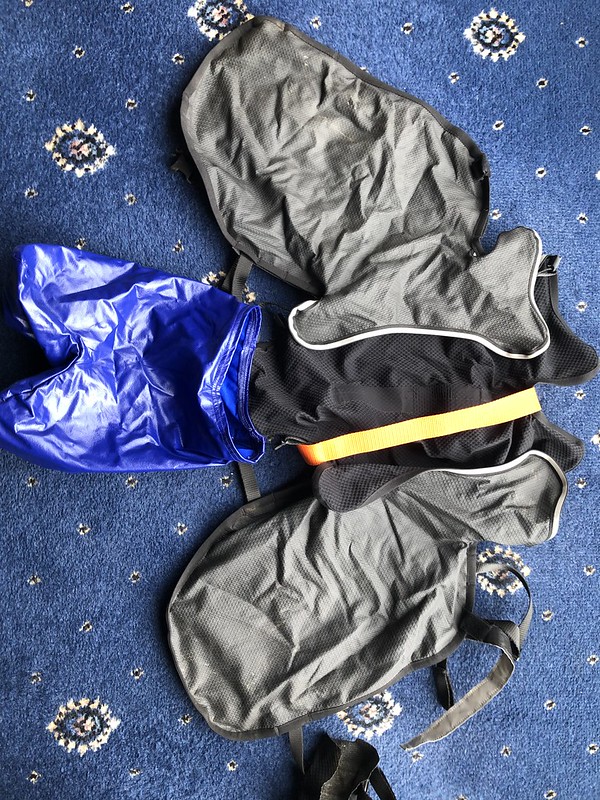 The Sandto bag laid bare.


I put my frame bag on (without taking the bags off), containing my usual haul of, 
first aid, tool kit, pump. zip ties, spare tube, tiny lock, MSR Trailshot, duct tape, tubeless repair, tent pegs and 500 ml of water. With all my gear onboard I went out for my regular 7 mile ride – 800 feet, some gnarly climbs too and a bit of mud too. I didn't know it was on. Absolutely no movement. The bike certainly handled better than with a handle bar bag on, not that I find a handlebar bag much of an encumbrance but there was certainly a difference. I even simulated lifting over a gate and found it easier than when there's a bag attached to the bars. If you want to get out of the saddle, it's possible but a bit awkward in that you have to lean a bit left when your right leg is at the top of the pedal, and right when your left leg is at the top. However, for me this isn't a problem. If I'm climbing I rarely if ever get out of the saddle but even so, you do have to remember when climbing not to allow yourself to slip forwards.


From the side

The material is very lightweight, so you wouldn't want anything sharp or pointy in there. I think Sandro claims it's waterproof (but that might be Italian or French waterproof)
 so my sleeping bag was packed inside a separate dry bag.
 You can see it all looks bulky, but it doesn't interfere with your riding and best of all, there's absolutely no movement.
 If you were contemplating a multi-day trip, carrying quite a few days food, these bags would be a very good solution. All your sleeping gear in the Sandro bags (except pegs and pole), which would free up 13 litres (or more) of space in a handlebar bag.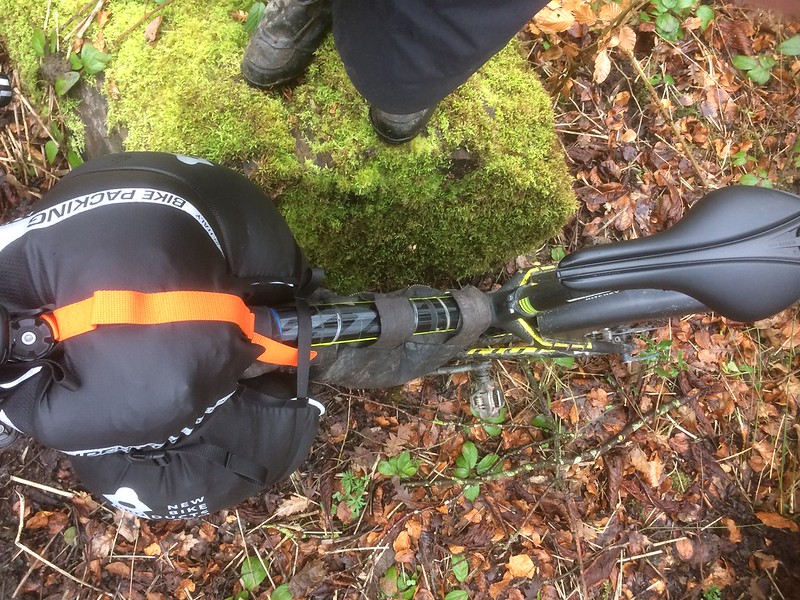 … and the view from above and Eric's feet.

Having used the bag for a few months, I was left wondering why no one 
has considered this idea before. When animals were used for carrying loads, the loads were spread across the "ridge" i.e. the back of the animal which is exactly the same position this bag uses. I appreciate that it may look unusual and certainly not what we're used to seeing but if you can look past that, then the Sandro bag is very useful and recommended.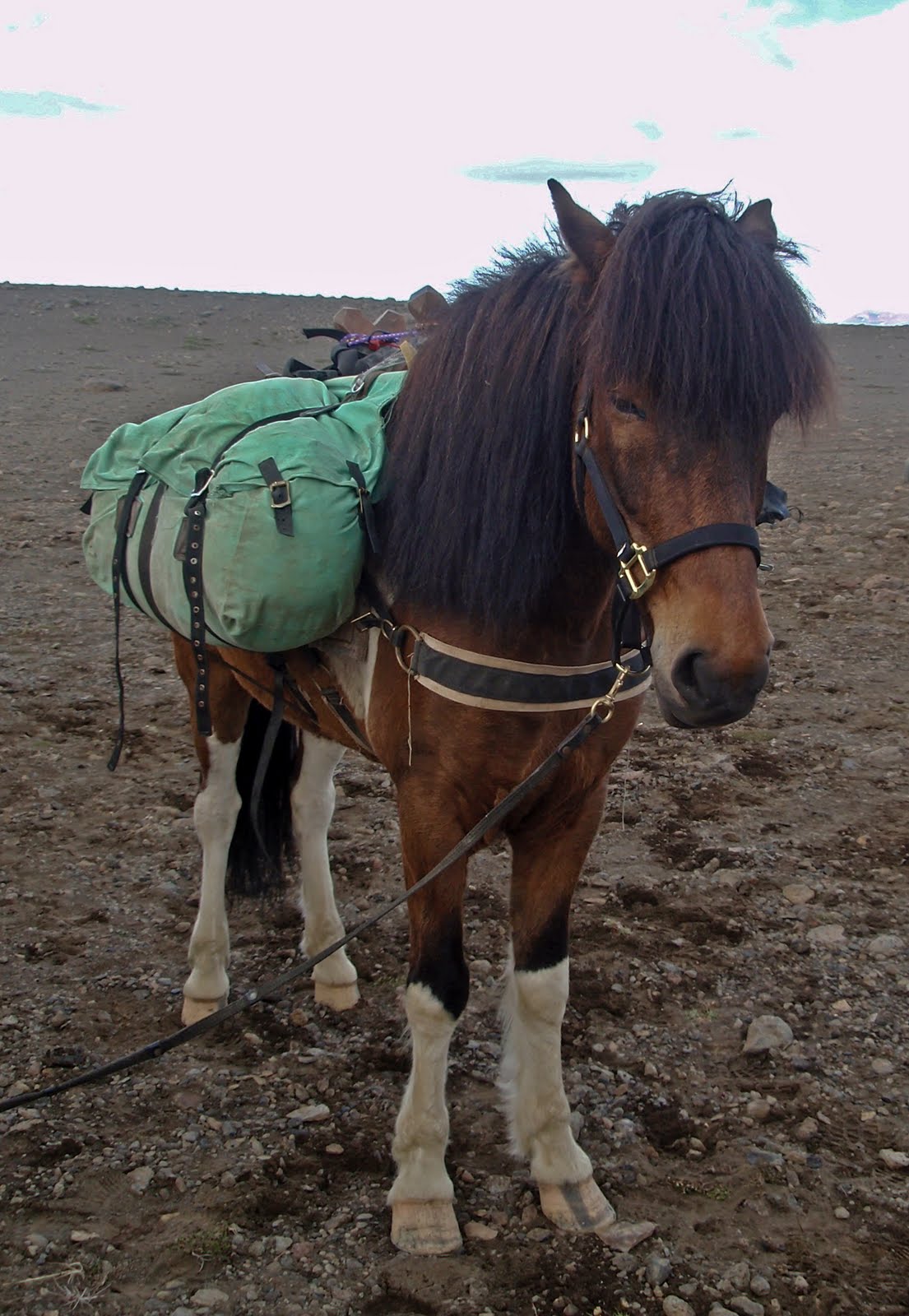 Millions of horses can't be wrong can they?

Weight: 281 grams

Cost: 175 euros

Capacity: 16 litres