I can still remember seeing my first piece of 'bikepacking luggage' and thinking what a great idea it was. The other overwhelming thought swirling round in my head as I stroked the X-pac and fondled the buckles was, bloody hell that's a lot of money for a bag. I'm sure it's a thought many people will have had soon after deciding that soft luggage would be their preferred carrying method but in comparison to 'way back then', it really shouldn't be … because luggage has never been so plentiful or so cheap.

I'm continually surprised by just how much choice the avid luggage shopper now has. I suppose, it's a simple case of supply and demand – if more people want to buy something then supply will increase to feed that demand but it's a precarious thing. If a manufacturer spies a viable gap in the market, they may design a product to fill it and if it's good, people will buy it. Another company may see what's happening and decide to produce something similar and if the market appears buoyant others will undoubtedly follow suit. This situation generally suits us – it keeps prices in check and innovation high. As each new player joins the game, they'll look hard to find a fresh angle to approach it from … it could be anything. A new material, a special closure, different colours, something to set their product apart from all the others and make you choose it. Each successive manufacturer will have a harder time innovating than the last, the 'thinkers' will still manage it but inevitably someone will try and gain a foot-hold by resorting to the lowest common denominator – price. It sounds good at first but it's a move that stifles design, leaves little room for innovation and ultimately leads to less choice for us, not more.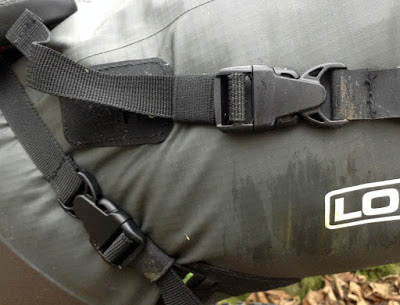 LOMO arrived quite late to the luggage party, yet in a fairly short time have managed to produce a range of products that while not costing the earth, do feature a level of 'design' that's often lacking from the mid-price point and below. As a company well known within the world of water-sports, it'll probably come as little surprise that the seat-pack (just like their other luggage) is fully waterproof. How waterproof? I'm sometimes a little skeptical when it comes to the term 'waterproof' as in the past, I have found that my ideas on the subject are different to other peoples. In an effort to find out quite what waterproof means in this instance, I conducted a little experiment. Firstly, I decided to make the stakes worthwhile, so stuffed two expensive down jackets into the seat-pack. Once the roll top closure was secure, I took a short stroll down to the river and deposited the pack in it. I held it under the water, floated it on top and generally tried to get the thing as wet as possible.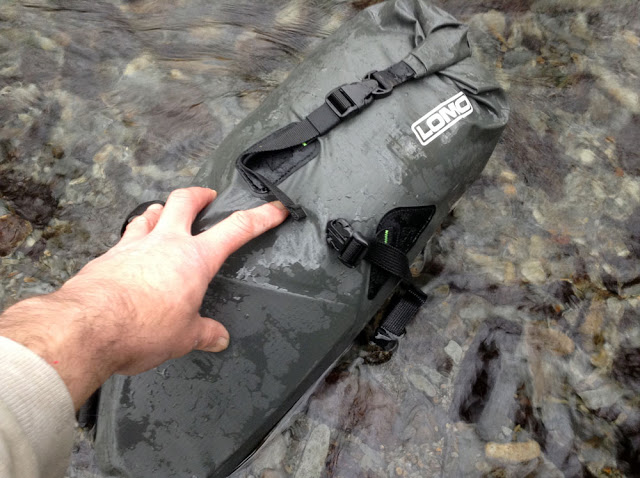 It's not a rubber duck but it does float.
When I'd quite finished splashing about in the cold water, I hung the pack from a handy branch and left it out in the rain all afternoon. I was a touch anxious four hours later when I eventually unfastened the clips and pulled the bag open – would my fluffy jackets still be fluffy and jacket shaped or a sodden, clumpy mess? I was rather relieved to discover that the pack had kept its end of the bargain and inside, everything was dry and just as I'd left it … so yes, just as long as you close it properly, then it is fully waterproof.
Big enough to be practical without being too big … even when you pack it badly.

LOMO claim a 13l capacity which I'd say is quite accurate and probably the most practical size for most people, most of the time. There's two wide straps to secure the pack to the seat post, two webbing straps that straddle the seat rails and clip to corresponding buckles on the main body and Hypalon reinforcements in high stress or high wear areas.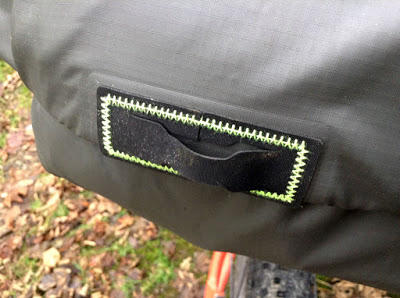 Hypalon rear light 'tag' … it's not coming off is it?

Obviously, the 'nose' of the pack is tapered but less obvious are the internal stiffening panels to help the thing hold its shape and add some additional rigidity. Sway and swing are two things often mentioned when talking about seat-packs yet it's something I very rarely notice – perhaps I'm brilliant at packing or just totally insensitive to any movement? I don't know but I do know that the LOMO pack feels secure and wiggle / waggle free when packed well and attached in accordance with common sense. The material used for the main body isn't the usual X-pac but nor is it the thick semi-rigid, plastic feeling PVC material you often associate with waterproof bags. It feels softer and more pliable than that, it also appears to have a rip-stop weave which if I'm correct, should prove to be a bonus if you manage put a hole in it.

I was going to describe the pack as 'budget' because in the true sense of the word, it is. However, to do so would not only be doing the pack a disservice but the bikepacking community who may steer clear of it feeling 'budget' somehow implies inferior or low quality … because although I haven't finished testing it yet, it doesn't appear to be either of those things. At less than £33, the LOMO seat-pack sits towards the lower end of the price scale. There are cheaper seat-packs out there and there are certainly more expensive one's but the LOMO seems to have struck a balance of cost / features that should appeal to a lot of riders whether they be 'newbies' or veterans of the trade. I shall be back after some wintry riding and let you know how we've gone on.

LOMO