No one sets out on the Highland Trail thinking that they won't finish. To do so would be to undermine your chances even further than the 50/50 where they stand prior to the start. The unforgiving terrain, fickle weather and not inconsiderable distance involved, can conspire against even the fittest and most well prepared, leaving them or their machines wrecked and broken … sometimes in life, it's not the fittest that survive, it's the luckiest.
I got in touch with four of the 'unlucky ones' from this years Highland Trail to find out what went well and at what point did luck desert them.
1/ When did you first decide you were going to attempt this year Highland Trail?
I knew I was going to ride it again as soon as I finished last year. The route is a classic. The decision that Tom was also going to come along was made in November. Rich and Tom Seipp
After the end of the BB200. I had set the challenge that if I could complete the BB200 I would have the 'right stuff' to do the Highland Trail. I had wanted to do the Highland Trail since hearing about it from Richpips. Karl Booth
After Alan Goldsmith read my account of my failed attempt in 2014 got in touch with me and ended his email "Hope to see you at the group start next year.". It is his fault. Dave Barter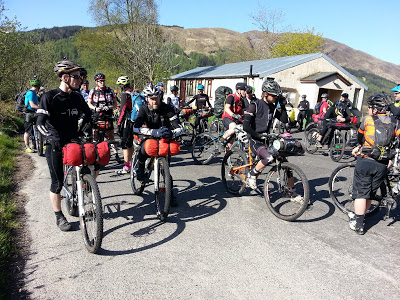 2/ Did you do any specific training as part of your preparations or just ride lots?
We'd only done 500 miles on our bikes in 2015 and most of that had been tempo stuff for Tom's circuit racing. Mental preparation though was important. We spent a lot of time talking through the route, with me highlighting where the difficulties would be. I reckon being psyched for these events is more important than having 1000s of miles in the legs. Rich and Tom Seipp
Strava has helped me a lot on this front (and a certain friend, Pete Gretton). Since January we have been racing against each other to get to 10,000m of ascent first each month. We now usually complete this by day 14. This has helped with my focus and climbing ability. I'm not the best of climbers so this has really helped me improve in this area. I think the important thing is to ensure that you're riding very regularly (4-5 days a week) at a steady pace (a bit Grandad like), focus less on the hard and fast riding. Karl Booth
I rode exclusively offroad for the whole of 2015 and throughout the winter of 2014 to make sure I was mountain bike hardened. I only managed a few bikepack trips though which in hindsight was a mistake as I had planned a lot more. I also did loads of coast path walking in Devon and I walk 3 miles to work and back every day. Dave Barter
3/ How easy did you find kit selection? Straightforward or were you still undecided right up until the last minute?
We travelled as light as we could. The forecast weather though meant we took more clothes than we normally would. As an adult you can maybe wing it a bit, and put up with discomfort. I had to ensure Tom would be warm and dry at all times though. I am glad to say that we used everything, and didn't want for more, except for maybe winter hats as we descended Devil's Staircase in the wind driven sleet. Rich and Tom Seipp
I think due to budget, kit selection was fairly straight forward. I basically used what I had previously for the BB200 with the addition of the new items mentioned below. Karl Booth
Mostly easy. I dithered about lights until the last minute but finally chose to go with a PD8 hub dynamo setup and charging circuit for my spare GPS. This was also a mistake as I ended up lending my spare unit to a French rider and probably could have managed without lights as I didn't do much dark riding. Dave Barter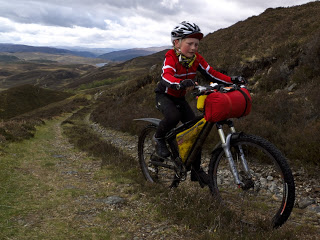 4/ Was there one piece of kit that really stood out or shone?
Our Rapha rain jackets. It rained a lot, and they kept us dry. Rich and Tom Seipp
I had made a decision to purchase a Trekker Tent Stealth 1, and a Rab Continuum Hoodie Jacket. These were stand out bits of kit for the event and made the rest periods very comfortable. I even over slept by 30 minutes on day 4 I was so comfortable. These both achieved the holy grail of comfort and lightness. Karl Booth
My Gore Bike Wear Active jacket was amazing. I bought this just before the event and it was warm light and really waterproof. I also love my Trekker Tent Stealth which I think was the perfect balance for the bad weather vs weight. Dave Barter
5/ Any particular low or high points that stand out?
The high points were meeting the HTR racers. Lovely people. No real lows, though Tom struggled with the steep hike a bike bits. Rich and Tom Seipp
My very obvious low point is having to scratch at Kinlochewe. My final set of brake pads had failed. I tried to carry on by doubling up the brake pads and riding metal on metal but quickly realised in this terrain it wasn't going to cut the mustard. Gutted! Toridon would have to wait until next year. Karl Booth
Low: I ate a crap breakfast at the start then did not eat properly for the mid-part of first day and arrived at the Corriarick Pass slightly bonked. This made for a few horrible hours as I needed to make the pizza take-away cut-off In Fort Augustus but was not going well at all. I then for some unfathomable reason ordered a seafood pizza, why? who could possibly want a seafood pizza after 100 miles of riding? I managed half of it.
Highs: the camaraderie was amazing, everyone was just ace and it was worth it for the shared banter and experience. I cannot say too much about the "child abuse: joke in the Oykel Bridge Hotel but that kept me going for hours in the rain the day after. I need to do something about my public image though, as going to your grave as "the bloke who swears on the internet" may not quite be living up to your parent's expectations. Dave Barter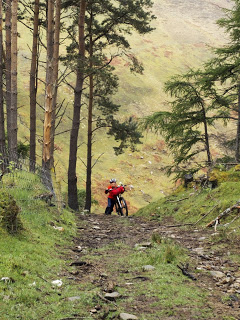 6/ Did you ever consider that people all over the world were following your progress via your SPOT?
I knew a few people would be keeping an eye on our dot. It was great to have so many people on twitter cheering us on. Rich and Tom Seipp
No. This really shocked me how much interest there was in the event. Much closer to home I didn't realise how much interest my friends and family had in the event. Once I found out so many people were behind me, and all the other competitors this really spurred me on even more. Karl Booth
Yes, this is a real motivating factor and it felt very sad to turn it off at Achfary. I felt like Arnold Schwarzenegger in the Running Man but looked more like Duston Hoffman (after the dentist) in Marathon Man. Dave Barter
7/ If you were doing it again next week, is there anything you'd change?
A much lighter bike for Tom. Pre ride I'd mentioned doing it on a tandem. I'm glad it didn't turn up in time. Rich and Tom Seipp
I spent the last 6 months trying to find the ideal pair of shoes. I ride SPD's so it's all about sole stiffness and pedal efficiency which when hike-a-biking is not what you want. I eventually found a set that seemed to fit the bill and although these may have been the best I could find, I think it was the best of a bad bunch. I will be researching footwear for another year and finding the most suitable option, this may include going back to flat pedals, who knows? Karl Booth
I would go for bigger wheels and less ganrly tyres for the road sections. My 650B Purgatorys were a bit draggy on some of the long road sections. I'd eat more regularly and stress less about doing massive miles each day. I would also think about not taking a backpack. Dave Barter
8/ What was the best thing you ate?
The curry we had in Ullapool. Starters, two adult portions with naan bread and rice. Gone. Rich and Tom Seipp
My beloved Eccles cakes. Although these flaked and broke up and ending up looking like something not very appealing they provided the juicy, tasty pick me up I was always craving. Karl Booth
Egg sandwich in a hurricane on top of Bealach Horn. There was nobody there so I could eat it like a caveman and make noises as well. Dave Barter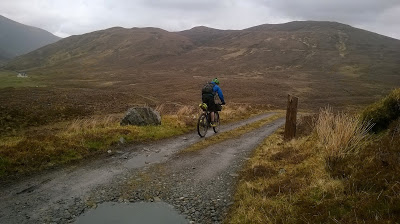 9/ How tough was the decision to 'scratch'?
Fairly easy. We had a time constraint of Tom needing to be back at school, plus there was the safety element of crossing the river at Fisherfield with the weeks rain. The plan was always to fit what Highland Trail riding we could into a week and not to have an epic. Rich and Tom Seipp
The decision was quite straight forward for me, still not a decision I wanted to make as I was feeling strong and willing to carry on but these remote environments require care and considerate decisions to be made. Going back into the mountains without brakes would have been a big risk, not just for me but for others if I'd had a (quite likely) accident up there. Karl Booth
Easy. Just before Achfary there is a small ramp, I could not ride up it as the pain in my right knee was so intense. Even though I've bailed at this point before I decided that the Highland Trail was going to be there for many years yet. The worst part was wondering what people would think of the idiot who failed again at the same point.
It's worth pointing out that your troubles have not ended when you scratch. I had to ride 35 miles to Lairg in some pain and then pay for a hotel. Waking the next morning the knee was swollen and I had no hope of riding anywhere. I could not get the bike booked onto a train so had a 7 hour journey to Tyndrum, then 4 hour drive back to get my bike followed by a sleepless night in the car by the road. Dave Barter
10/ Will you be going back?
Next year we're off to ride the Tour Divide together, so I'll be up for it again in 2017. Tom reckons he'll go back and race it when he's quite a bit older. Rich and Tom Seipp
Oh yes. I need closure on this ride. I have been studying my kit and making plans for next year. I have the Yorkshire Dales 300 and the BB200 to finish the year off and test equipment then I'll start training hard for next year. Karl Booth
At the time it was a definite "NO". But already the voices are starting to whisper in my ear that better preparation and a more laid back plan might see me round. I can see that route nagging at me for the rest of my life if I don't, so I probably will. Or an alternative is to suggest an ITT from Tyndrum to Achfary as I've done that twice now and got a better time this year. Dave Barter

Thanks to Tom, Rich, Dave and Karl