If at first you don't succeed, try and try again, it might be a worthy motto to live by but it's one that can be hard to live with. When you've given something your all, used every last ounce of resolve, fought tooth and nail and still ended up on the wrong side of success … the decision to have another shot can be a hard one to make.
After a solid ride on the infamous 2014 BB200, Karl Booth threw his hat into the ring for the 2015 Highland Trail. It didn't go quite according to plan but undeterred he lined up in Tyndrum again this year and set any ghosts to rest.
1/ After your ill-fated attempt last year, did you make any major changes to your preparation for this year?
I spent quite a while recovering from last year's Highland Trail. Having suffered shin splint I spent a lot of time with a sports physio trying to sort it out. I replaced my footwear for some casual lace up commuter SPD shoes. I then felt I needed to improve my riding technique to make me more efficient and put less strain on the body so signed up to 4 weeks on indoor cycle training in January to kick off the year. Cycle training made a big difference to my fitness and mind set and provide me with numbers to gauge my progress. I felt overall that I didn't ride as much as last year and definitely didn't do as much climbing but felt mentally strong and well prepared.
2/ I know that you built a new bike not long before the HT, what was it and how did it perform?
During last year's HT I rode with Rob Waller around a large chunk of the northern section, at one gate I held his bike and quickly realised I was at a big disadvantage with weight compared to some of the other riders. This was down to kit but also bike weight. With the Pinnacle taking a good thrashing for 2 years and starting to show signs of a hard life, I conceded that it was time to update the bike. I did a lot of research to find a carbon frame and fork that had similar geometry to the Pinnacle, to this end I found the Sobato MCA. Some may have seen these on eBay, direct from China (I can hear people cringe already but it survived). I bought the frame and fork new and transferred what I could from my other bikes. All in all I got a good, solid 10kg race bike as cheap as realistically possible. The quality of the frame and fork is excellent and the ride is pretty good as well. If I was comparing, I would say descending is more fun and faster on the Pinnacle but the climbs are ruled by the Chinese warrior.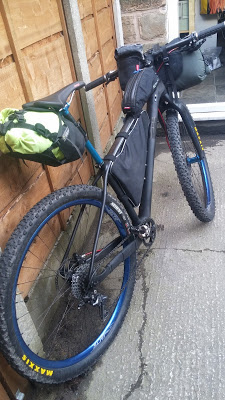 The Chinese Warrior awaiting instruction.


3/ Were you ever conscious that people around the world were following your every move via Trackleaders?
Always read questions carefully. I initially read that as were you ever conscious….the answer occasionally. Answering the full question, having the knowledge from last year really helped. Knowing that people are following you 24 hours a day keeps you motivated as you don't want to let yourself or the people rooting for you down. I knew when I stayed at Kinlochewe and didn't start moving again until 8.30am that my friends and family would be all asking if I was alright or if I was calling it a day and quitting. With all the interest it's easy to get carried away and push too hard but it's important to understand that although everyone is willing you to keep pushing, you need to ride your own race and listen to your body. I think it must be harder to watch the spot rather than get out there and riding the course.
4/ Was there anything you didn't take but wished you had?
I was very happy with my kit this year. I reduced my kit from last year and focused on making it quick and easy to setup and pack away. With this in mind, I took an Outdoor Research Helium hooped bivvy that I could just roll out, no fuss with pegging out guy ropes on a tent. I had kit for all weather and felt fully prepared kit wise. I think if the weather was predicted as torrential rain then the trusty TrekkerTent Stealth 1 would have made it back into my kit just so I had somewhere to stretch out.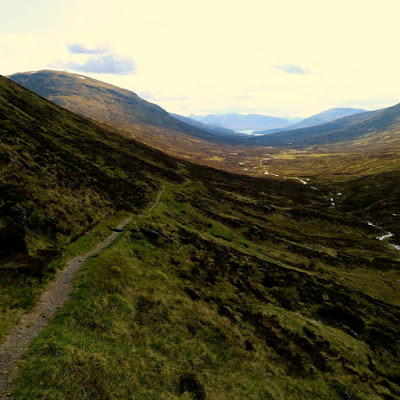 It's not a place to have things go wrong – pic Shona.


5/ What was the best thing you ate? … I appreciate that might be more to do with your condition than the actual quality of food consumed.
The fry up in Fort William. I was enjoying the last leg, it felt much more like a normal summer ride (without the usual British weather). Taking time to enjoy the weather I had a massive Scottish fried breakfast, pot of tea and a cream donut, perfect. Looking back on it now, I think this was a celebratory meal as I only had about 7 hours riding left to do along steady trails so I was happy to treat myself and suffer the consequences.
6/ Is there one section of trail that stands out in your mind above all the others be it good or bad?
Devils Staircase was a highlight this year for two reasons. The first reason was that I had completed all the big climbs on the trail and was barely 2 hours from the finish. The second reason was that it was 4.30pm, the sun was shining, and I had the descent pretty much all to myself. Goes without saying that I attacked everything, whooping and hollering all the way down, so much fun!
I won't talk about the postman's path to Kinlochewe. I'll leave that for the next wave of contestants to enjoy (endure), but it's all part of the fun!
Simple answer….too much. Due to twisting my knee on day 2 I spent a lot of time during the rest periods trying to reduce the swelling and get myself back up and running. My total sleep time was 29 hours with the longest sleep being 7 hours at Kinlochewe. I think it's really important to listen to your body on longer events. I think I made some wise decisions during these rest periods, most notably staying at the Old School Bothy outside of Oykel Bridge and stopping at the Bunkhouse in Kinlochewe. At the Bunkhouse, I should have been on commission as I convinced Steve, Zed and Kenny to stay as well.
8/ At what point did you 'know' you were going to finish?
I was very worried after day 1 as the heat really took it out of me, then on day 2 I twisted my knee. At that point it felt like things weren't going my way but I wasn't going to let it get to me. I woke up on day 3 just north of Rosehall with a positive mind and decided I had all week to get home so I could take my time to recover then push on to the finish. From that point onwards I knew in my mind that I was going to finish, all I had to do was ride my bike in glorious weather. It couldn't be any easier

J
9/ Did you have a 'food strategy' with regard to resupply points or did you 'wing it'.
No stove this year so I was more reliant on the food stops available. My plan went pretty much as I thought, with some adjustments due to losing time and generally just wanting good grub. I stopped at the following locations:
Day 2 – Contin and Oykel Bridge
Day 3 – Drumbeg Store(unscheduled stopped and Kylesku as well due to needing water and wanting cake) and Oykel Bridge again.
Day 4 – Ullapool and Kinlochewe (got to Kinlochewe after they stopped serving food so only had snacky bits – food fail but still had lots with me).
Day 5 – Dornie and Tomich (was trying to get to Fort Augustus before close but no chance).
Day 6 – Fort William (for my first proper fry up) and Kinlochleven.
I would definitely would use this strategy again, much less faff than cooking for yourself.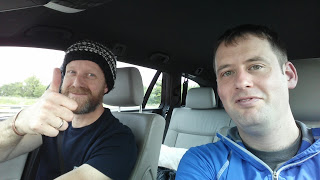 Will Karl make it? Phil seems confident.


10/ Are you going back next year?
Not sure yet. Alan has created a corker of a route and would happily go and ride it anytime. I do also want to set a representative time as I feel if everything had aligned a lot quicker time was possible. Unfortunately I'm always tempted by the next big challenge so I'm looking at other options. Obvious ones are Tour Divide, Colorado and Arizona Trail Races but speaking with Marshall, who has competed in them, he said the Highland Trail was the most technically challenging! Any recommendations on the next big adventure would be greatly appreciated.