Bikepacking is like touring, just as pears are like apples … they look different, they smell different and they taste different but they're both fruit. Some people will dismiss that last statement, believing wholeheartedly that 'bikepacking' is just a fancy new name for touring dreamt up by suited marketeers in an effort to sell the poor unsuspecting cyclist something new and shiny … but it isn't. There really are differences between the two, some subtle, others not so. Today, there's possibly enough differences in equipment alone to validate the point but the real divide is borne from outlook and attitude.

People have loaded camping equipment onto bicycles for as long as there's been bicycles. The bicycle as we know it today, precedes the surfaced road by a good number of years, so if the first distinction we try and make between bikepacking and touring is off-road verses on-road, it could be argued that the first bikepackers appeared sometime around 1870 … although it would be over 100 years before the term 'bikepacking' makes a appearance. In fact, it would be 1973 when an article entitled "Bikepacking across Alaska and Canada" by Dan Burden appeared in National Geographic and chronicled a 3103 mile trip from Anchorage to Missoula, Montana.
Obviously people have 'toured' off-road long before 1973 but generally those that did, had more in common with the modern view of the stripped down bikepacker than the obese, over burdened tourer. The desire to carry less while still carrying enough to survive comfortably is possibly one of the major differences between our apples and pears and it's by no means a recent phenomenon. In 1901 Thomas Hiram Holding set up the Association of Cycle Campers. Thomas Holding was a prolific camper and wrote numerous books including 'Cycle and Camp' published in 1898, this became the catalyst for the formation of the association, which by 1906 had a membership in the hundreds. It's easy to imagine that Mr Hiram and friends struggled under heavy loads of canvas, blankets and cast iron but the reality was actually quite different. A kit list from the time reveals that the approach to cycle camping in the early 1900's was very similar to that of today's bikepacker, a 907g single skin tent, a down quilt weighing 737g and even an air pillow (85g) are all listed. The combined weight for the entire list tipped the scales at less than 10lb, something the majority of us would be very happy to achieve over 100 years later.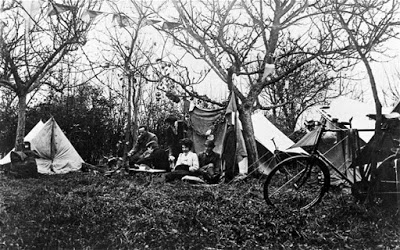 Bear Bones Winter Bivvy 1902.
Around the same time as Mr Holding was knocking up his silk tents in England, sheep shearers on the other side of the World were packing their bikes and riding 1000's of miles across the Australian outback. Did they use panniers and racks? Did they ride 40 miles between campsites and hot showers? – No. The silhoutte of their bikes actually looked very similar to something you'd expect to see in 2015 on the Tour Divide, Highland Trail or WRT. The luggage used, mainly comprised of canvas frame bags and straps to hold sacks to the handlebars or under the saddle and their nights were spent directly on the side of the trail under simple shelters … sound familiar? It should.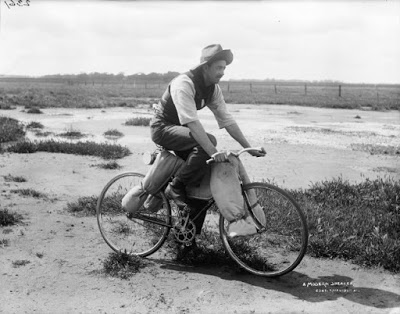 Aussie sheep shearer on his way to work.
The modern concept of 'touring' with all that entails, didn't really exist until the seventies with the introduction of what we'd recognise today as a 'pannier'. Even throughout the 50's and 60's the majority of touring cyclists carried very little by the standards of today. What they did carry was usually stuffed into or strapped onto a relatively small saddlebag … the thought of loading a bike with 80+ litres of storage capacity would have seemed very alien.
In reality, how people choose to carry their kit is of little importance, it's what they choose to carry that matters … the method is only a manifestation of attitude. Maybe bikepacking requires a level of masochism? A willingness to sacrifice and suffer? Or perhaps it requires self-discipline, a higher level of skill and clear judgement? Knowing that you're carrying only those things you really need rather than those things you want can be a difficult pill to swallow for many … much easier to pack a plethora of 'safety net gear' to make up for a lack of ability and shield yourself from any potential unpleasantness the great outdoors may serve up. Given the requirement for skill and self reliance, it's little surprise that bikepackers are often viewed as being geeky, nerds or mildly mad when they choose to spend time honing their techniques rather than just throwing yet another kilo of junk into the panniers.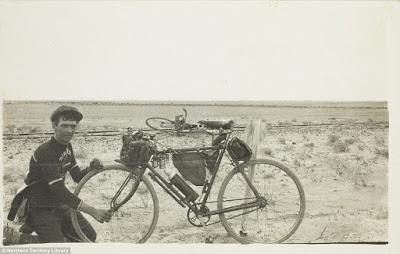 3000km – 28 days – 100 years ago.
Bikepacking isn't something new, it's the rediscovery of something as old as the bicycle itself. Its heritage is a long one dating back well over 100 years. It's not the bastard child of mountain biking and touring, conceived in some late 90's one night stand, it's the legitimate heir to cycle camping with a direct lineage going back over a century.
Thomas Holding, the Aussie shearers and cycle campers of the 1950's understood the benefits of travelling light and had the skills to do it … bikepackers in all but name.