A dozen tyres roll onto tarmac and into civilisation. The sound of rubber on gravel ceases but almost instantly it's replaced by far more irritating noises – beep, beep, brrrr, twing, beep, the sound of communication. Gloves are removed, finger tips skate effortlessly over screens and for ten minutes we stand in the rain only to eventually discover that yet again, there was nothing of any great importance going on in the world.

The next seven miles pass with only the occasional beep or bing escaping from pockets or bags but they resonate through the hills, like an embarrassing fart whose volume you underestimated before releasing it on an unsuspecting audience. In the settling dusk, we can make out the glow of the pub and the promise of food and an hours warmth. Having lent my bike against the the side of the front porch, I unclip my helmet, sit it on top of my saddle, then walk towards the door. I step into the porch hoping for a sign – 'We serve food all day' stapled to the black wooden door would be good. Failing that, I'd have settled for a faded sticker, a permanent fixture stuck crookedly on the bulls-eye window, proclaiming, 'CAMRA pub of the year 1979'. It wasn't to be, instead my gaze was greeted by 'Free WiFi' lovingly scribbled onto a blackboard in someone's best handwriting.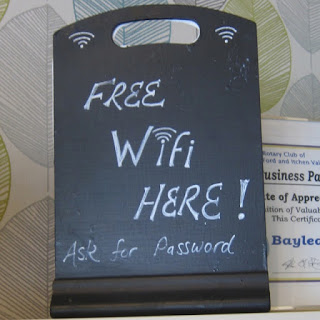 I arm myself with a coke and a menu and plonk my soggy arse down on a wooden chair at the head of the table. One by one my companions join me but they're preoccupied. Their eyes dance round the room looking for it but 'it' isn't always obvious. Admitting defeat, someone pushes back their chair, stands and makes straight for the source. Thirty seconds later he returns, he has 'it', written on a piece of paper, it's in the same flamboyant hand as 'Free WiFi' and it says 'WRRY660UM87'.

A good natured tussle ensues in an effort to stake their claim as next in line to see the inscription. I pull a damp map out from deep down the front of my jersey and lay it out across the table. I'd hoped it might have provoked a reaction, a question or a response but it was greeted with deafening silence. I gave it a bit of a shake hoping the subsequent draught might break the stalemate but nothing. Leaning forward, I ran my finger across the lines on the map, "thirty eight miles" I say but receive no response. "Only another eighty to go before bedtime" I lied. I lifted my gaze from the map and stared at them in turn but they were oblivious to anything I said or did.

Two young girls appear from behind the bar, with laden arms they approach our table, 'Steak and ale pie?". In reply, two hands rise from the table and hover at ear level but the eyes of their owners remain firmly fixed on something else and their mouths firmly shut. With plates duly placed in front of all present, I issue a very big thank you to the girls and raise my cutlery. I genuinely expected the arrival of a long anticipated meal would call a halt to things but it didn't … left hands may well have been wielding forks and shovelling food but the digits of right hands continued to tap away like frustrated woodpeckers.

Five minutes later a glimmer of hope presented itself when one of them looked up. Sadly, I was unable to catch his eye before he lifted his phone from the table and holding it at arms length … took a picture. Within seconds the world wide web had yet another pointless addition to its photograph album. Who, apart from the recipient of the gammon or possibly a very keen butcher would have any interest in that picture? I thought really hard about it and did my best to think of a reasonable explanation but my mind could only fathom a single answer, no one. No one else anywhere could give a toss about the half eaten gammon steak, chips, two eggs and onion rings that were lay on that plate, could they?

Minutes after declining desert on every one's behalf, I stood up, pulled my jacket over my head and made for the door. "Are we going?", "yep, I'll be outside" I replied. Not one of them knew where they were or where we were heading, so I was confident that they wouldn't be far behind.

Sitting at the table, watching people 'communicate' with a virtual world, while seemingly unable or just unwilling to do the same with someone sat next to them, I realised something. It struck me that some people are far more concerned with others knowing what they're doing, than they are with actually doing it and the sooner they could tell the world about it, the better. It really didn't matter what they were experiencing or whether they were getting the most from it because the reality was, they weren't doing it for themselves.

I changed my plan … if they were determined to share their experiences with the world, I was determined to give them something worth sharing. It wouldn't be captured in a quick 'selfie', nor could it be expressed in 140 characters or belittled with a cheery thumbs up icon. No, tonight would be real, it would produce long lasting memories, memories which would need to be called upon in the telling of the story. I hoped it would be a story they'd want to share, not to score points or gain approval but because it would be worth telling.

After retrieving their bikes from wherever they'd left them, the five assembled on the narrow lane outside the pub. "You might as well turn your phones off fellas because you really won't need them where we're going". "Why, where are we going?", I shouted the answer over my shoulder as I started to pedal up the road … "the back of beyond via the arsehole of nowhere and it's a long way".