What tyre for? A question that's usually asked with a big dollop of genuine enthusiasm and a splash of expectation. It's an innocent enough question of a straightforward nature, so why more often than not, does it result in ridicule? I can only guess at the answer … which is something I'll probably have to do when asked the original question. "What tyre for … ?" It's a question that raises more questions. The flippant may brush it aside with, "whatever's on there now" or the ever helpful, 'round black ones" but in order to give a more constructive answer, additional questions must first be asked and that's where the problem lies. Tyre choice depends on many things and many of these 'things' are variable. Sometimes they're unknowns that can't be guessed at with any degree of certainty and occasionally, they're no more than a whim or simply a 'feeling' … if you ask me "what tyre for mid-Wales?" be prepared to have ten questions thrown back at you, with the likelihood that each one will spawn a further ten. As I'm sure you can imagine, the exercise will soon become (a) very confusing (b) tiresome and (c) ultimately pointless because whatever answer is finally derived from the process will still in part, be no more than a best guess.

The two metre high tyre mountain in my cellar is testament to my reluctance to ask "what tyre for?". Discovering the answer for yourself is an expensive undertaking; a path with many dead-ends, wrong turns and disappointments. However, anyone willing to embark on such a perilous journey, will, with time, dedication and determination be rewarded – not only with their own personal tyre mountain but with 'The answer' … those who can't be arsed with all that and have a gravel / adventure bike, should probably just buy a pair of these.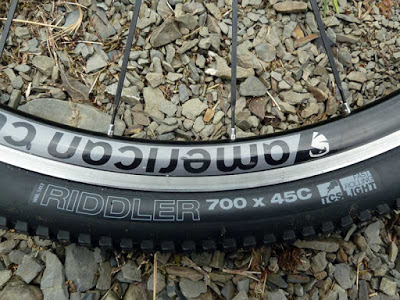 If you measure your tyres in millimetres rather than inches, the 700c Riddler from WTB should be of interest. I was introduced to it on a recent trip to the Highlands. It was a brief introduction but one that left me wondering whether this could just be the 'do it all' tyre and certain that further investigation was required. In mountain bike terms 45c is narrow but in gravel terms where 40c is considered voluptuous, it's something of a whopper. Personal experience leads me to believe that increasing tyre volume on a gravel bike changes the bikes character for the better in just about every way – grip, braking, cornering and comfort all benefit but what about the downsides?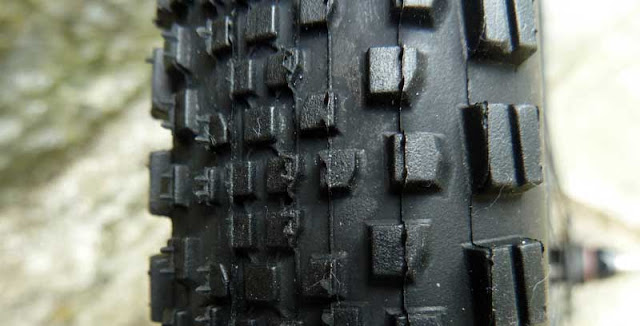 A much smoother transition than you might think … no 'falling off the edge' here.

I imagine increased weight and drag will probably be at the forefront of most people's minds when considering fitting larger tyres but I'm tempted to think that neither concern is really valid in this instance. Personally, I don't consider that 550g is heavy for a genuine off-road capable tyre and drag, well that's a much more complicated subject that's governed by numerous factors least of all size. Depending what angle you're approaching from, you might view things differently but my experience so far would indicate that weight or drag are in any way excessive. In reality, the only issue you're likely to encounter is one of clearance. Frame / fork and tyre clearance is increasing and many recent frames won't have too much of a problem accommodating a 45c tyre but rather sadly, a good number of older frames will. Fitted to a 19mm (internal) rim and inflated to 30psi, the Riddler measures just over 44mm at its widest point, so check your frame's clearance beforehand. It's also worth noting that WTB TCS ready tyres and Stan's rims aren't always the best combination, sometimes proving almost impossible to marry together.


Just check you've got the clearance first.

The tread is made up from three different sized 'blocks'. The smallest live in the centre of the tyre and are tightly packed to aid easy rolling. Next is a row of larger, slightly off-set shouldered blocks and finally a line of bigger rectangular blocks along the outer edge. Although each piece looks very different from its neighbour, there's no discernible step or edge between them and the transition from one to the next while cornering is unnoticeable.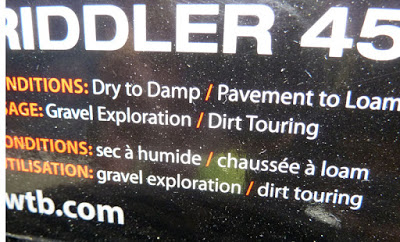 Well, that pretty much covers it then.

As I've already said – tyre choice is subjective and any tyre will require you to compromise somewhere but a true 'all round' tyre will limit them to a minimum … a terrain specific tyre is far easier to design by comparison. I don't have enough miles under the Riddlers yet to say with absolute certainty that it's the best gravel tyre I've ridden but I am looking forward to finding out.