Life is full of compromise and the trouble with compromise is, it usually leaves everyone feeling a little unhappy. The less compromise you have to accept the better you feel about things.
Bikepacking mirrors life, indeed for some it is life, so a level of compromise is inevitable … you don't always get to ride where you want, go as far as you'd like or quite as often as other people. The same is true about the kit we buy and use, nearly everything has a 'flaw' … it's cheap but it's heavy, it's light but it's fragile, etc. Usually we work round these 'flaws' and decide which attributes are the most / least important to us and we compromise.
I'm hoping that the 'Stealth' will drastically reduce the amount of compromise we have to swallow when it comes to picking a shelter. The Stealth is designed and made in Scotland, so is very much designed with UK conditions in mind, so that'll be rain, wind and midges then.
Only 6 pegs required to see it up and operational.
The rain is kept at bay by a Silnylon outer that features a solid back and a big double door up front with an adjustable vent. Set the outer up on it's own and you'll have a weather proof shelter, it'll keep you dry and prevent the wind battering you about. If the weather's feeling benevolent leave the doors tied back and enjoy the view, if not, simply zip the front up and retreat inside.
Still only 6 pegs required with the inner.
What if the weather's kind but the wildlife isn't? Then add the inner … it doesn't require any additional pegs or messing about, it just clips in place in around 20 seconds. The walls of the inner are all mesh and it features a cunning bathtub floor, so not only are the winged terrors kept outside, the slimy ground dwellers are too.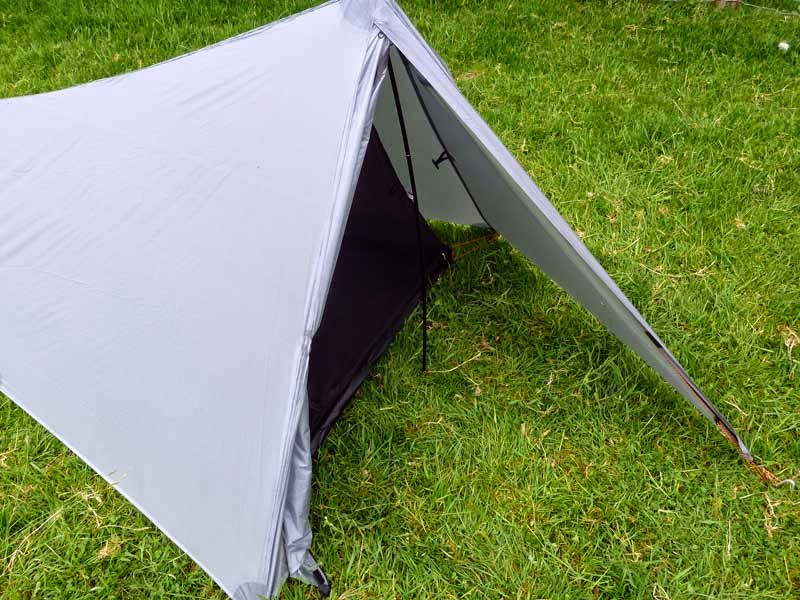 Plenty of storage and maybe room for a crafty brew.
If the world's really against you and you're being attacked from all sides then you'll be glad to know that there's also a pretty substantial 'porch', it's certainly big enough to stash your kit (if not, you're carrying too much) and brew up in (obviously at your own risk, blah, blah, blah).

So the 'Stealth' ticks the boxes on many peoples wish list … it keeps you dry, it offers protection from the wind and insects. It's more than roomy enough, it's quick to erect and it's really well made … where's the catch? I bet it's really heavy – no. It must be expensive then? – no. Okay so it packs up to the size of a bus? – and again, no.

Time will tell whether I'm right or not, I've a trip planned early next week but unless I've missed something blindingly obvious I'm not expecting any unpleasant surprises … I'll report back.


Can also be pitched without creases!