We're very rarely satisfied for long. We're content enough while we believe that there's nothing bigger or better out there but once we discover there's something new and that it might in someway enhance our lives… we're happy to discard the present for the promise of a shiny bright, exciting future.
My Stooge trundled round the countryside sporting a 33t chainring and a 11/36 cassette and in the main we were happy – sure, we had our ups and downs but show me a couple who doesn't. That happy state of affairs came to an end when I saw a 30t front ring, it winked at me from the screen of my laptop and I knew I just had to make it mine. In all fairness, we did have a good time when we first got together but after a couple of fun weekends away, the novelty sort of wore off. I suppose that initial spark had fizzled out and we quickly found ourselves in a rut, maybe we'd started to take each other for granted? I tried my best to make it work for both our sakes, I avoided certain websites and would quickly change the topic of conversation when people talked about range expanders, Goat-links and Rad cages. It wasn't really too much of a struggle, I'd met their kind before … 'fur coat and no knickers' as my gran would have said. All showy on the outside but no real substance. I kept telling myself that they weren't right for me and certainly not long term relationship material.
We persevered for a few more months but in reality, I knew deep down that neither of us was happy. I can't say that I hadn't been tempted a time or two in those intervening months but I was weary and just couldn't face the upheaval and uncertainty of throwing in the towel completely and starting from scratch – hand on heart, I also knew that these 'newer models' were out of my league.
It happened by chance as these things often do, a fleeting glance across a crowded desktop monitor. Of course I was wary, I'd been hurt and let down before but I was intrigued – I had to know more. I made some discreet inquiries with a mutual friend – you know, 'I'm asking on behalf of someone else' type of thing. I tried hard not to get my hopes up in an effort to save myself from the pain of disappointment but the next day I received a message back, it said, "available and would love to meet you". No doubt you can imagine that I was a little excited, I nervously picked up the phone and arranged a date. It seems a little silly now but I wanted to make a good first impression, so I tidied the workshop and gave the Stooge a proper good old polish in giddy anticipation of our first meeting.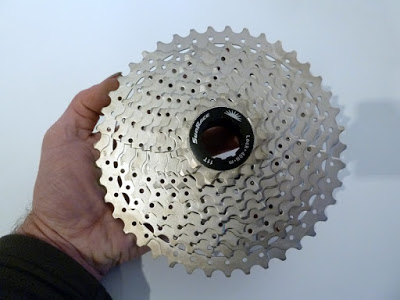 No, I haven't got little hands before you ask.
I don't think I need to enter into the graphic details, after all, it's not very gentlemanly but believe me when I say, we've got to know each other intimately since we first met last Tuesday. Obviously, it's early days but I get the strong feeling that things will work out well between us. I secretly worried that some of the others wouldn't be as enthusiastic or welcoming as me but I needn't have worried, they're all getting along just fine … I haven't needed to make any special adjustments or allowances, they've really pulled together as a team, no grumbling, clashes of personality or anything, it's almost like they (we) were made for each other. So far, all the initial promises have been met, okay there might be a few extra grams around the middle but those who live in glasshouses shouldn't throw stones and besides, it's more to grab hold of, isn't it?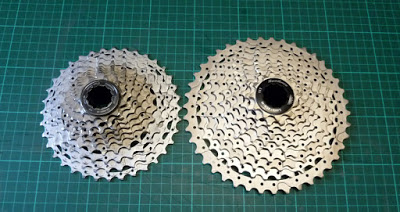 11/36 meets 11/42 – reminds me of the old Shimano Mega-Range cassettes.
I've got a few days away planned for us soon, you know the sort of thing. Visit the coast, roam the road leass travelled, we might possibly attempt to go up one of those big hills that litter the Welsh countryside. It won't all be hard work though, I'll make sure there's a bit of time to relax with a milkshake and a pork pie along the way … you know, a bit of 'us' time. Anyway, I'll let you know how we get on.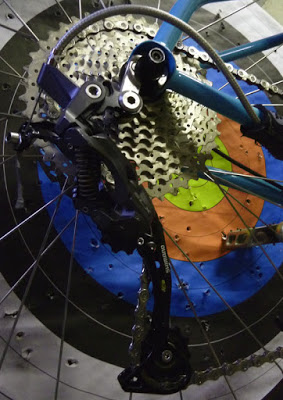 Living happily with SLX long cage mech' and KMC chain.