I've been accused of many things in life, some justified and some not but I've never been labelled an 'ist' before. Not sexist, nor racist but tentist. My dictionary describes tentist as "someone who unfairly discriminates against those people who prefer to camp within a tent". I'm sure you can imagine my shock at having such a scandalous accusation thrown at me? However, rather than go round and wee through their letterbox, I've decided to behave like an adult and address the concerns head-on by reviewing an actual tent.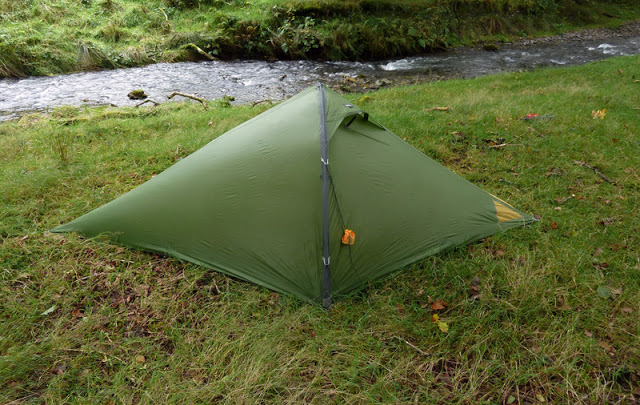 I'm going to guess and say that Exped isn't the first name you think of when your thoughts turn to tents; sleeping mats maybe but tents, probably not. Exped have been producing tents for quite a few years but you don't see many. That's something of a shame because in my experience, they're both very well made and also, they're very well thought out.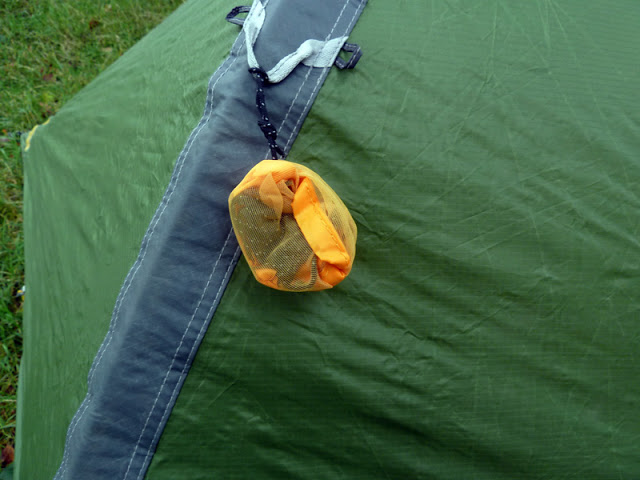 Guy-lines get their own mesh stuff sacks so you've no excuses for tangling them up – have you?

The Vela is a proper tent. A tent with a separate inner, bendy aluminium poles and everything you'd expect from a tent … except a zip. A single pole gives the tent its shape, it fits through an external sleeve which culminates in a blind reinforced pocket. The other end of the pole is homed in a grommet which is attached to a webbing strap which in turn is attached the the aforementioned pocket on the opposite side. Once you've slid the pole into place, just peg the two (long) ends down and the tent is pitched. Obviously there are additional pegging points and a couple of guy-lines but two pegs and a single pole are all that's required to erect it.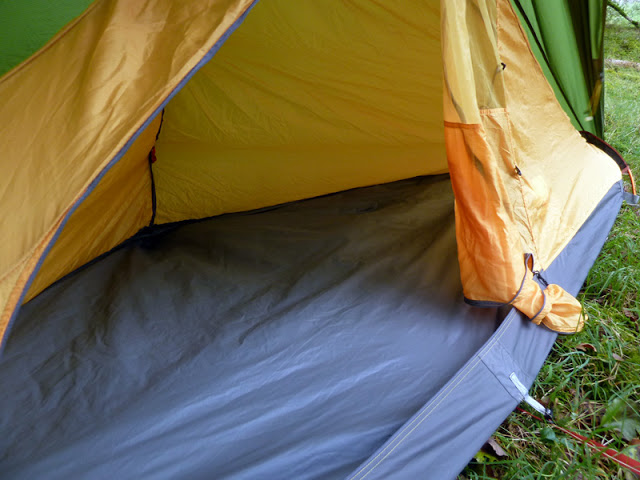 The inner is more triangular than you might imagine, so roomier than many one occupant tents.

As you might expect, the inner is suspended from the outer. What you might not expect is a cunning system of line and shockcord that tensions the inner – simply pull the shockcord and hook it onto the two pegs you've already secured the outer down with, then adjust the tension via a mini line-loc on the non-elasticated cord. That does sound quite complicated doesn't it but it's actually straightforward and very intuitive. Besides the main pole there's two additional short poles that fit into pockets at the head / foot end of the inner. Unlike many tents that feature end poles, these aren't set vertically but instead, form an arch. That provides much more room for a sleeping mat, bag or just your really big feet than a vertical pole ever can.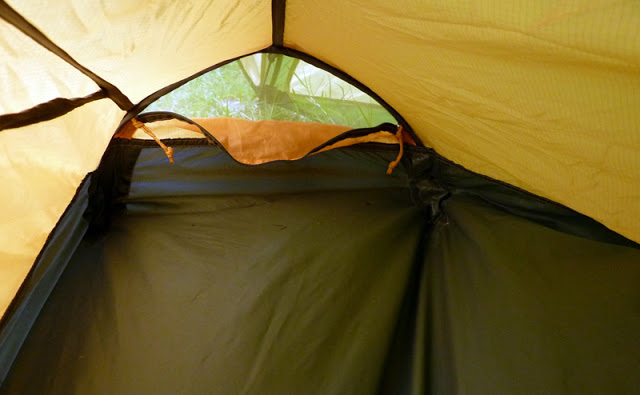 Mesh vent with zip-over flap. There's one at each end so good airflow is assured.

The inner is what some people might term 'four season'. Why four season? Because it's mainly solid with some mesh panels rather than being all mesh and somewhat draughty. Both ends feature a mesh vent with a zip over flap so you can regulate the flow of air entering your bedroom as and when conditions call for it. Speaking of vents, the outer sports two. There's a vent high up near the apex which can be closed should you really feel the need and another two triangular mesh panels at the far end near the bottom … remember, cold air in at the base helps drive out warm, damp air from the top, which makes condensation less likely. That bottom vent might be a little unusual but it allows the outer to be pitched low to the ground which helps keep out any snow and rain the wind might try and drive beneath.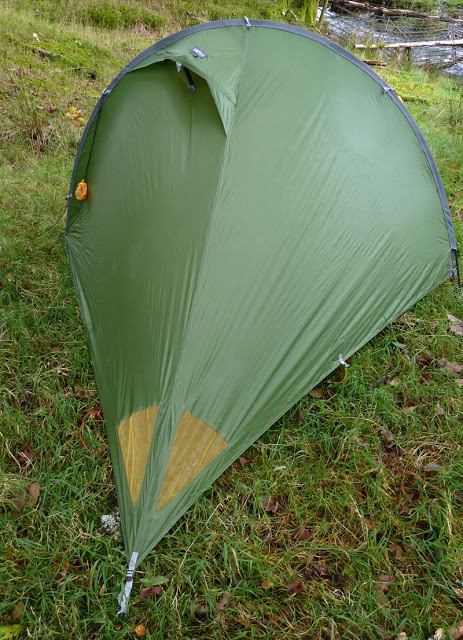 High vent near the apex and low vent at the base (obviously). More air = less condensation.

"Except a zip" – I said that earlier but to a degree it is in fact, a lie. The inner features three zips but they're not really under any strain and should last forever. The no zip comment referred to the outer because although there is a functioning door, it doesn't use a potentially fragile zip. Don't worry, you don't have to crawl face down to gain entry, you simply slide the outer up and down with the main pole acting as a runner. It allows the entire front to be left open on those clear, star studded nights, fully closed on the wet, windy ones or left absolutely anywhere between the two for those changeable evenings – and yes, it can be opened / closed while you're still snuggled up inside.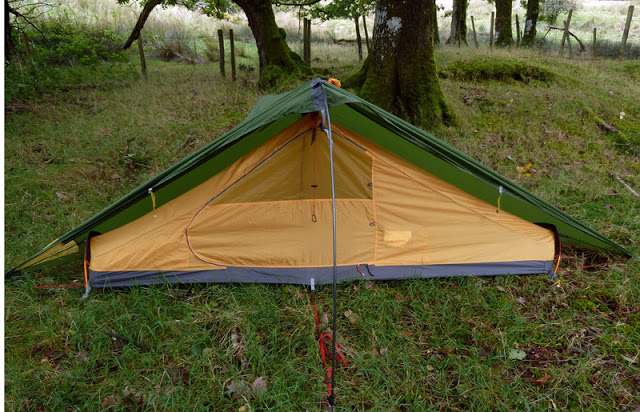 Front fully open. Probably gives you a good idea about how large the porch is when the door's shut. Also, note plenty of space between inner / outer.

When you consider that the porch takes up half the available space, you may think that (a) the inner is cramped and (b) the porch is massive. Well, you'd be wrong about point 'a' but entirely correct about 'b'. The inner is more triangular shaped than you might expect, it's also longer than you might think, so it's a lot bigger than you might have thought. As for the porch, yes it is massive and provides more than enough space to store your kit and brew up simultaneously.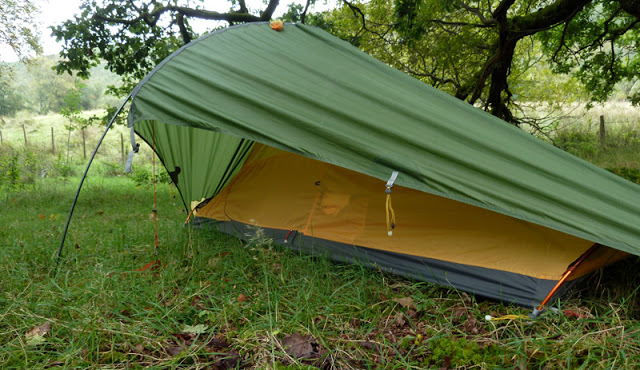 Here's the door left ajar forming a nice 'beak' over the front of the inner.

If you're of a mind to, there's no reason why you can't leave the inner at home. Using the outer on its own produces a weather-proof shelter that's easily big enough to accommodate a couple of six footers yet 'only' weighs 810g. It's perhaps also worth mentioning folded pole length here – it's something which to a degree can make or break a tents suitability to bikepacking. In this case the pole measures 39cm, so shorter than many and short enough not to cause too many packing headaches.

The Vela certainly features some unique and original ideas but there's nothing 'gimmicky' about any of them. If you see one in the flesh, I guarantee you'll spend ten minutes looking round it muttering, "ooh that's clever", "I like that" and "why didn't I think of it". The Vela certainly is a clever piece of design but you get the impression that none of it was done purely for the sake of it or in a effort to simply be seen to be doing things differently. With an 'all in' weight of 1670g, there's certainly lighter tents but I don't think there's many that offer the same space and year round capability that the Vela does – I'd estimate that weight could be reduced to sub 1500g quite easily just be removing the substantial bags, pegs, etc.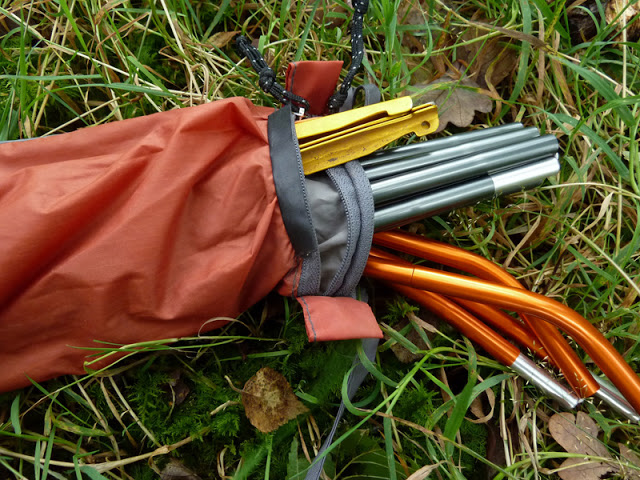 The 'all in one' peg, pole and spares bag has had more thought put into it than some tents I've tried.

I don't use tents often because personally, I find there's too many compromises for the benefits they offer (remember, that's just me). However, the Vela has changed that perception somewhat and it's fair to say that, if ever I do want to use a tent, the Vela will be at the top of my list. You can expect to pay around £300 depending where you buy one from. Three hundred quid isn't an insignificant amount of money but it is comparable to many other tents and besides, why should it be cheap? Quality rarely is and like your dad told you, you get what you pay for.

EXPED