The word 'divide' is now so liberally scattered throughout the world of bikepacking that it appears to have lost much of its original meaning. However, there are some routes that still adhere to the true meaning – the Calder Divide is one such route and I'll let Adrian explain a little about it and the reason for its inception … over to you Adrian.
What?
The River Calder flows like a thick blue vein through the heart of the Calder valley and on through the districts of Dewsbury and Wakefield. The Calder is feed by hundreds of becks, brooks, streams and five main rivers – the Cragg, Colne, Holme, Ryburn and Spen – each with their own distinctive biography. But the Calder is the mother river.
At 45 miles long the River Calder in West Yorkshire is not an epic natural feature but it does have a grandeur all of its own. This can be found along the riverbank where water voles and kingfishers make their home, in the shallows of the sandbars where herons feed and of course below the river surface where life clings on in the peaty water.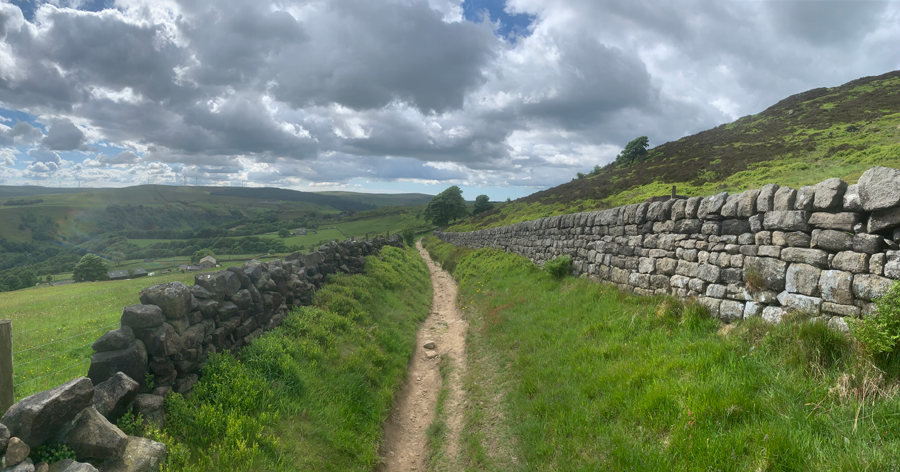 There is another grandeur to the River Calder of equal or perhaps greater interest to the bikepacker. This is to be found along the watershed of the River Calder on the high ground at the head of 12 valleys, amongst six Pennine moors and the edge of the broad floodplain. This watershed is now home to the Calder Divide Trail.
The word 'watershed' was originally a geographical term describing the outer edge of an area of land that captures and drains rain water into becks, streams and onward into a single river that eventually flows into the sea. From this, watershed came to mean dividing line or turning point in life.  Away from the textbooks and out on the hills, a watershed is where the wild spaces are.  Those bits of the landscape that are still green and natural.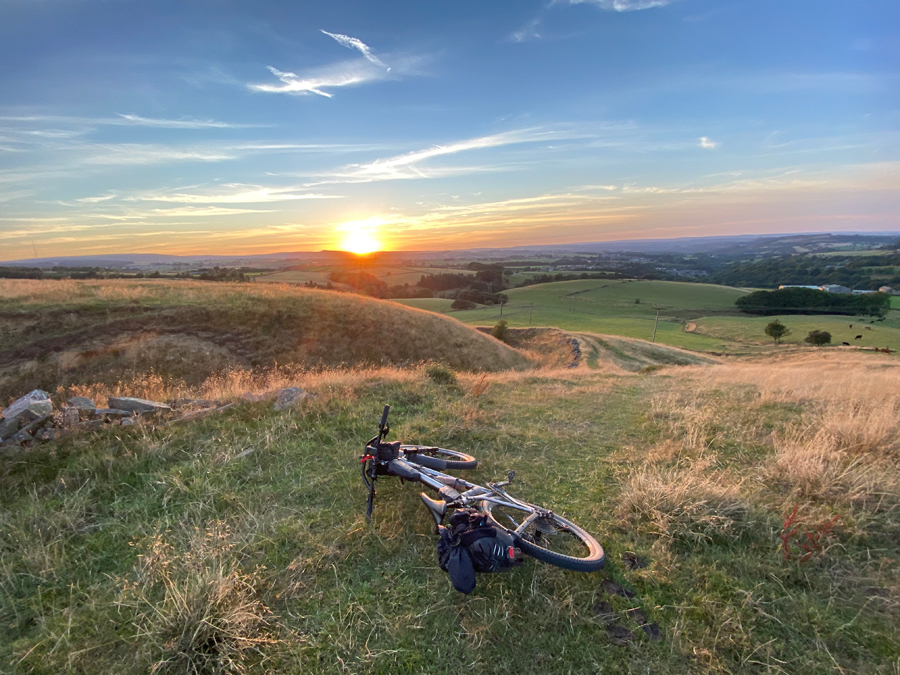 For the two wheel traveller, the watershed of the River Calder is of interest as it marks the high ground where mile after mile of bridleways can be found. For 4,000 years people avoided building on and travelling through the valley floor as it was boggy marshland where the wild river would flood and cause devastation. Instead people built on the valley slopes and moved along the high ground. Centuries of trade in coal, peat, salt, stone and wool between towns and villages across the north of England have left us with a legacy of trails along the watershed on bridleways and causeways such as Limers Gate, Ramsden Road and Naze Lane.
The Calder Divide Trail connects these old highways, which some might today call 'off-road trails', and takes you into open, green spaces such as Crimsworth Dean above Hebden Bridge, Hade Edge above Holmfirth and the little known Southern Washlands on the floodplain near Castleford. These are places where becks, brooks and streams flow freely, where farmland merges into moorland and native woodlands are still diverse. They also lie midway between Manchester and Leeds in the fold of the South Pennines and so whilst they are quiet havens they are part of a route that crosses over our dense motorway network six times!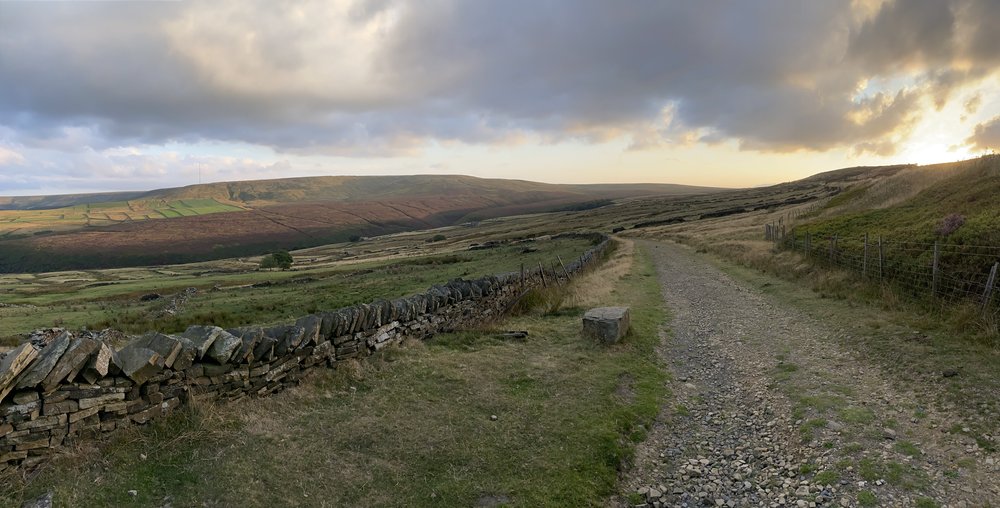 The Calder Divide Trail is a long distance circular route but it is not a single route proclaiming a 'one true way' to navigate the old network of paths along the watershed of the River Calder. In my mind a watershed is not a fixed line, permanently etched on a map. It is a broad divide where bridleways, causeways and greenways criss-cross the moors and valleys. Hence there is one divide but many trails. Five trails to be exact and so whilst each trail visits Todmorden in the west and Wakefield in the east, Ogden reservoir to the north and Marsden to the south, they do so by negotiating a different route.
… and why
Whilst the CDT traces the watershed of a river that flows from a spring on Heald Moor, the origins of the trail lie elsewhere. Not in life but in death. The trail is largely the outcome of a promise I made to my riding buddy Will Norman who I rode with for 5 years as part of a group of riders called 'Bike Club'. After a long fight against cancer Will died in Overgate Hospice in 2021 at the height of the covid epidemic. His funeral was online.
Will joined Bike Club after his partner Liz approached me in the Big 6, a pub in Halifax that is our winter meeting place, and asked if other riders could join the group of mountain bikers. I said of course and took Will's name and email. Later that week I got in touch with Will and he became a regular. Riding through the winter. Going out on Saturday rides. Joining the annual Bike Club awards night out. His death at the age of 42 was a real blow to all of us.
Will was a quiet, gentle bloke. 6 foot 2 and strong on his bike. He always had time for a chat. He always had a smile. When I meet up with him for the last time he was with Liz and his two young children in the Piece Hall in Halifax. It was between the various lockdowns and everyone was out. On that day I was in a record/coffee shop called Loafers and Will was sat outside with a coffee enjoying the sun. We got talking. Liz looked at Will and said "You need to tell him". I knew what was coming next. Will laughed but Liz pressed on. "He doesn't have much longer" she said. There wasn't much we could say. So we just sat beneath the old sandstone columns and watched the children run around. Eventually I got up, shook his hands and said 'Bike Club have been asking after you. We'll do a ride. We keep your spot in the Big 6'. I didn't see him again.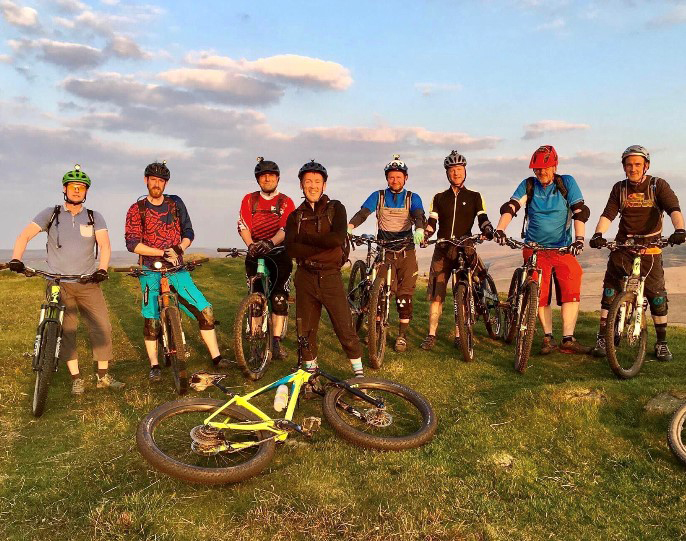 Six months later Liz got a real surprise when I turned up at her house with an idea of doing a long distance mountain bike challenge and holding it as a benefit for the hospice. It threw her at first. She was busy raising two children. She had a full time job. But she was a fell runner and loved the hills just like Will did and inside 5 minutes we were recalling stories of Will and his rides with Bike Club. She gave her blessing to the event and I got on with planning the first Calder Divide Trail Challenge. Fast forward six months and it was the event weekend. See you on the starting line in September 2023.