Contrary to the beliefs of some, I once had a proper job, albeit one that involved me paying the wages. Above the door of that establishment was a sign that read 'Speed is just a question of money. How fast do you wanna go?' You're probably quite rightly wondering what that's got to do with you. Well, as bikepackers, we perhaps face a similar but different dilemma which is 'Weight is just a question of money. How light do you wanna go?' I appreciate that simplifies things somewhat and isn't always true but generally, the less weight we want to carry, the more it's going to cost us … in our line of work, less usually is more.

I've got a micro-tarp and it's great. It's around 140cm square(ish) and provides adequate coverage over a waterproof bivvy bag. It's made from Spinnaker, weighs less than 100g and if you wanted me to make you one, it'd cost you about sixty quid. The DD Magic carpet on the other hand performs the same task and weighs 175g but it'll only cost about a quarter of the price. That's quite obviously a substantial saving and one that I'm sure many would consider a fair trade and a reasonable compromise.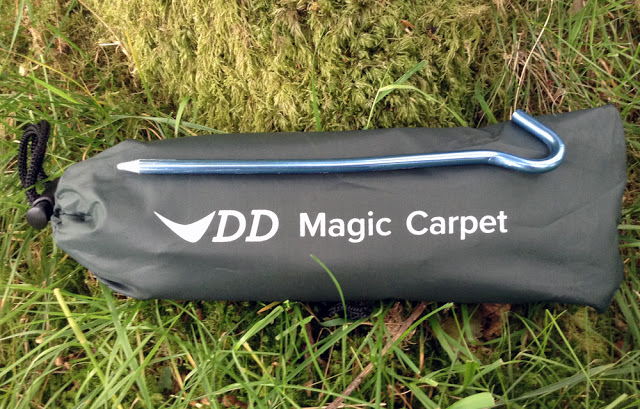 It's certainly compact.

The Magic carpet isn't made from semi-exotic material but like many tarps in the DD range, is made from PU coated polyester. It's strong, durable and as waterproof as anything else. It measures 1.4m x 1.4m and has a simple reinforced webbing loop in each corner; There are no whistles and no bells, which in my opinion is a good thing.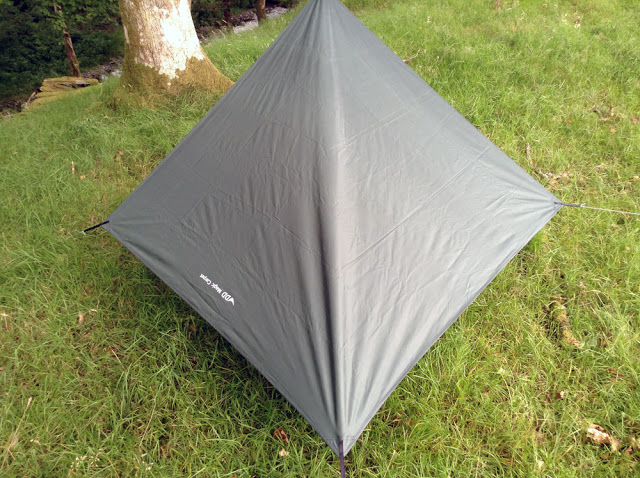 1.4m x 1.4m can provide a surprising amount of space.

In a world where many view something twice the size as normal, then a 1.4m square doesn't sound very big and that's because it isn't. Yet, it can provide a reasonable degree of protection and should be appealing to those who use a fully waterproof bivvy bag as their prime shelter. However, those who enjoy their comforts might also find it useful as a groundsheet or for extending a tent vestibule or porch. Its usefulness is perhaps governed by our imagination rather that its physical size.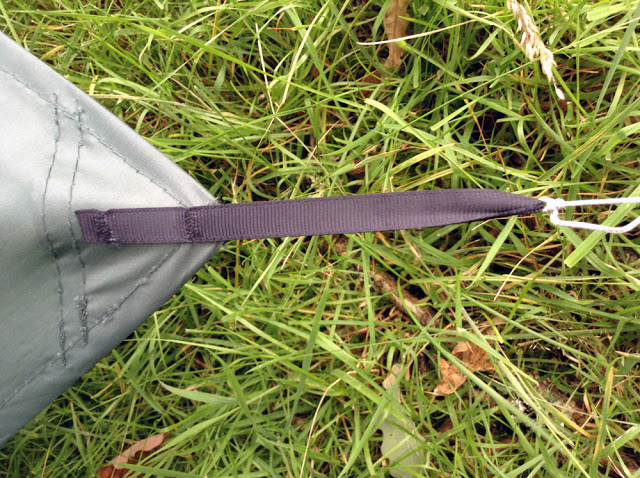 Reinforced corners with webbing tie-outs but do yourself a favour and add some lines.

Pitching really couldn't be any easier. My preference is always to attach lines to tarps as it generally produces a more stable pitch and provides more room beneath … but if you choose not to, then I fully respect your right to be wrong but no matter what you do, you'll still require one line as an absolute minimum. Firstly, peg one corner to the floor, now insert some kind of support at the opposing corner such as a pole, stick or bike or alternatively tie that corner to a tree, fence etc. All that's left to do is peg out the remaining two corners and there you go, your home for the night is now complete. If you remember to orientate it so the back's facing the prevailing weather then you'll be pleasantly surprised by how much protection it provides and also by how much space you have for storing gear or brewing up.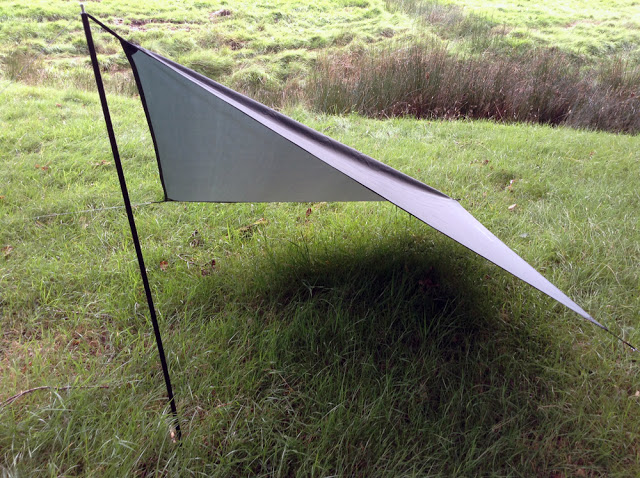 You can alter the height of the pitch and angle of the walls in less time than it's taken you to read this.

If you harbour ambitions of travelling light but taxing the car and paying the gas bill have to take priority, then the DD Magic carpet is something you probably should be investigating. It's available on-line from plenty of retailers but I found these folk to be very good.