What would the world of bikepacking and especially that of ITT look like if it weren't for lithium batteries and LED technology? … yes, that's right, you'd have no idea what it'd look like because it'd be too dark to see it. I believe it's fair to say that lighting technology has quite literally dragged off-road cycling out of the dark age and into an altogether much brighter one. However, equipping yourself with a powerful and long-lasting light source does come at a price and those who only venture into the night on occasion, might find that price to be something they can't easily justify. Thankfully, unlike economics, 'trickle down' technology is something which does eventually bring benefit to those with a limited budget and lights are a very good case in point. Now, don't be under any illusions, high quality lights are expensive for good reason and if you plan to use them regularly and have no budget restraints, then I wouldn't hesitate to buy one – just spend the money and bathe in the deep pool of daylight that will spread out before you for hours if not days on end.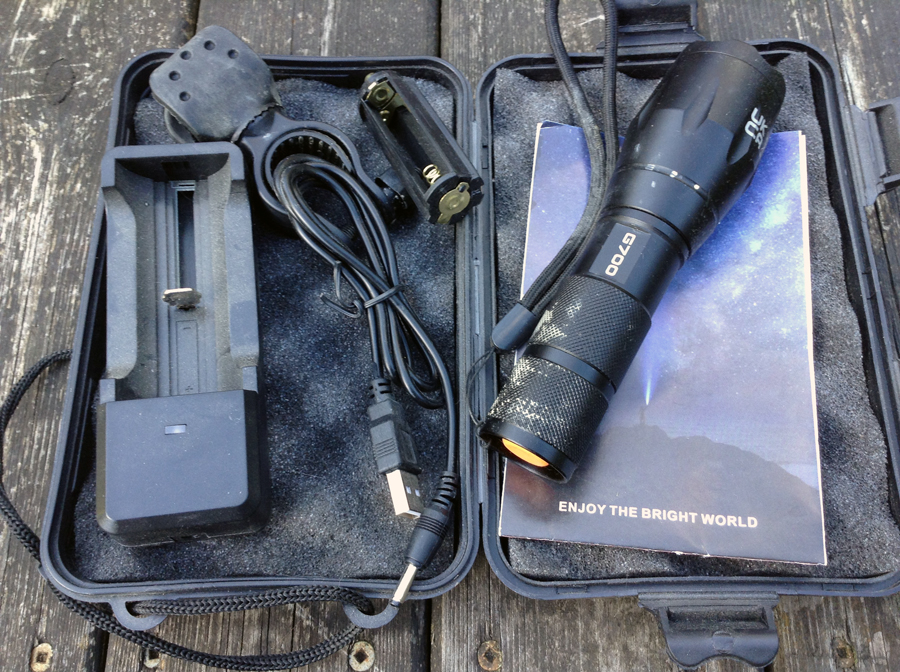 If that's not you, then the internet is awash with cheap illumination but can a light that costs less than a fifth of a proven high-end competitor actually provide adequate illumination and run-time? I decided to try and find out and see what nocturnal life would be like using something altogether cheaper and potentially much nastier.
The search for a suitable candidate ended not too long after it began simply because I became fed up and somewhat bored of looking at the seemingly endless offerings available. I'd decided to focus (no pun intended but I'll take it anyway) my attention on finding something that could be mounted to the bars, bodged onto a helmet or even used around camp. Those criteria did help to narrow things down and by the time I'd added, 'powered by rechargeable batteries' to the list, a few candidates came floating towards the surface. I finally settled on the Lumitact G700 and not because of the overly optimistic claim of 6000 lumens but because it can be run on the supplied 18650 battery or AAA, comes with a bar mount, charger and cable plus it can be bought for around £20. It has a high, medium and low setting (also SOS and flash), an adjustable beam and best of all, you can apparently run over it with a truck, although the description didn't elaborate further so I'm unable to tell you what size of truck would be appropriate should you wish to confirm that claim for yourself.
Straight out of the plastic case, the light feels substantial and solid enough to make you wonder whether you really could drive a truck over it and my scales suggest it weighs 193g with the 18650 battery installed. As way of comparison my Exposure Joystick weighs nearly a full 100g less. On / off and modes are controlled by a shielded large button on the rear. Off to on and back again requires a single 'full' press but changing modes is achieved via a far more subtle 'half press' – it can be done with gloves on but the ham-fisted or heavy handed may find it slightly frustrating at first. I previously mentioned an adjustable beam and it makes a huge difference to the light emitted, changing the beam from wide / floody to long / narrow and all points in between. Altering the pattern is simply a case of sliding the top section of the light (which contains the lens) up and down the body. When attached to the bars you can do it with one hand very easily but if fitted to your helmet, you might find it a little more awkward given that the action, although smooth is a little stiff.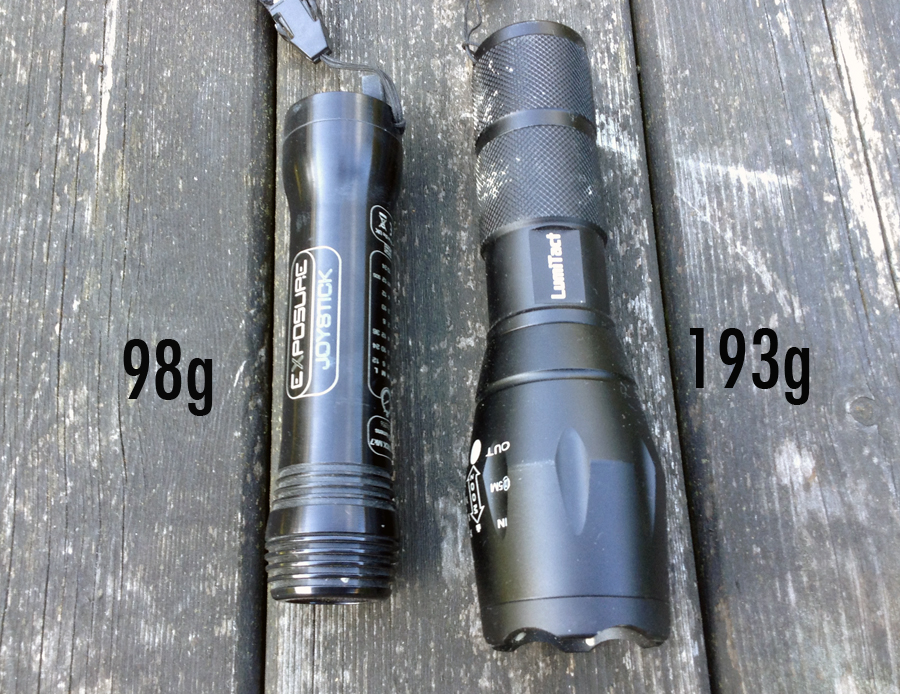 Output or potential brightness tends to be the headline grabber when it comes to lights but in the case of cheap lights, I think it's something that's best ignored. Firstly, how 'bright' a light appears to be isn't solely a function of lumens and secondly, most claims seem so outrageous that they become both meaningless and comical. Although far from scientific, in this case I can say that, yes the light is perfectly bright enough. I've found the mid setting to be fine for those none technical sections such as fireroads and good tracks. High provides additional clarity when things become steeper or rougher and the low setting is perhaps most useful once you've stopped riding for the night – obviously, 'flash' may prove handy for the tarmac whether night or day.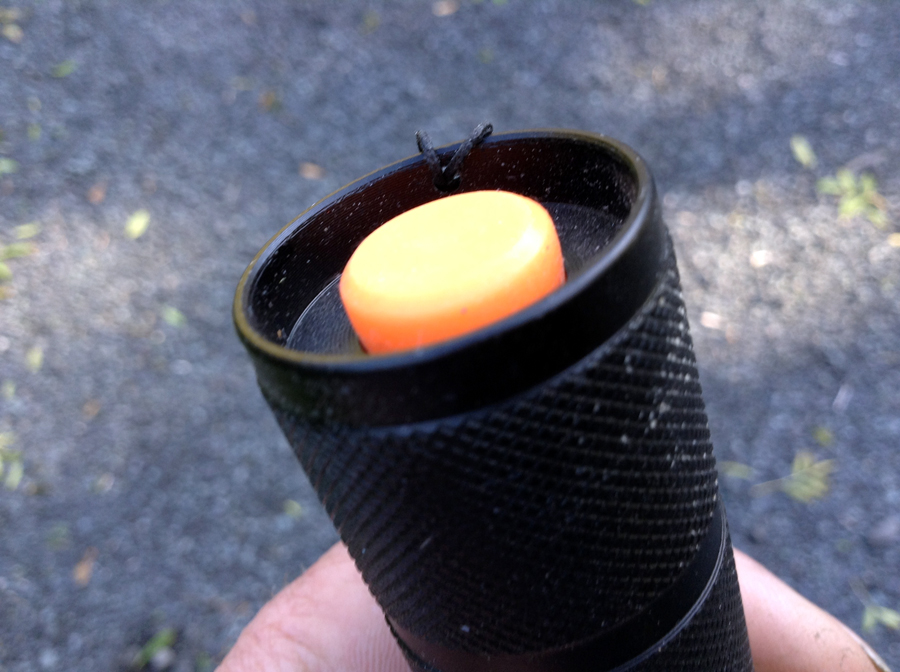 The thought of buying a light knowing that the internal battery may die quickly making the complete unit redundant or that I'll likely have to buy an entirely new battery pack sooner rather than later, doesn't sit well with my pragmatic nature. A criticism often levelled at budget lights is that of poor battery quality and that is the reason why I chose something powered by replaceable batteries. I knew from the outset that the supplied 18650 wouldn't be of the highest quality and that's fine because you can purchase any number of well regarded replacements without much expense. The ability to change batteries also makes run-time far less of a concern as I can simply carry as many as I deem necessary to see me safely through to the end of the ride. Using a combination of medium and high, the run-time from a single 18650 is around 5 hours. That's considerably less than some lights but swapping batteries takes around thirty seconds and in theory, that ability gives you unlimited light.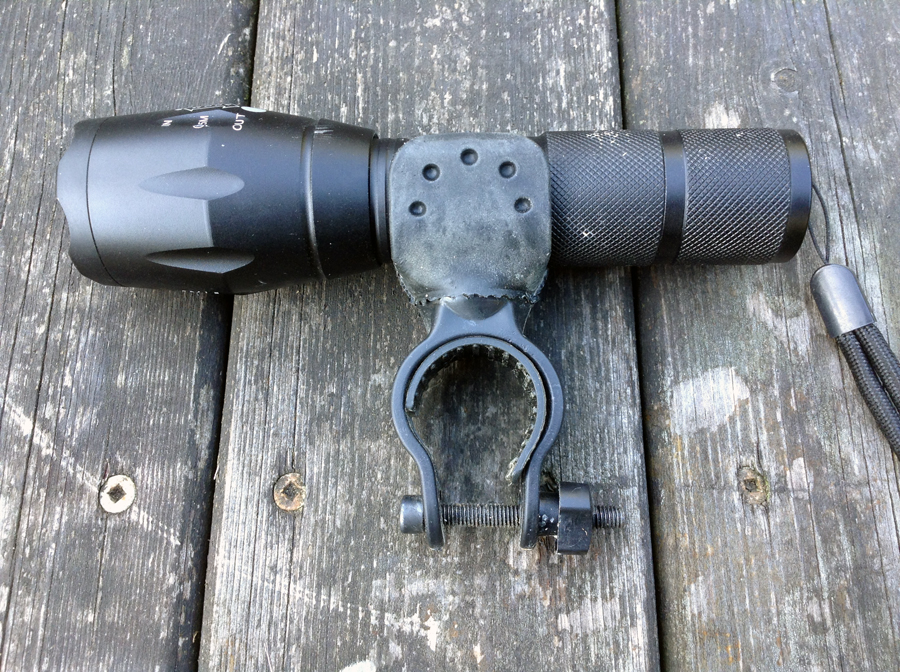 The supplied bar mount is fairly basic but has proved perfectly functional and the usb charger – does. If your plan is to join the lighting arms race, then look elsewhere but be prepared to spend considerably more. If however, you simply require a light that's adequate rather than amazing and don't have unlimited cash reserves at your disposal, then this or one of the many similar offerings should make a reasonable alternative. If you're interested, you should easily find one on-line.