A few months ago, we had a look at the Bridgestreet Saddlebag, I said at the time, I'd been putting it through its paces and that I'd continue to do so … well, done so I have and here are my thoughts. However, the first thing I'd like to do, is pull some holes in your character and personal values.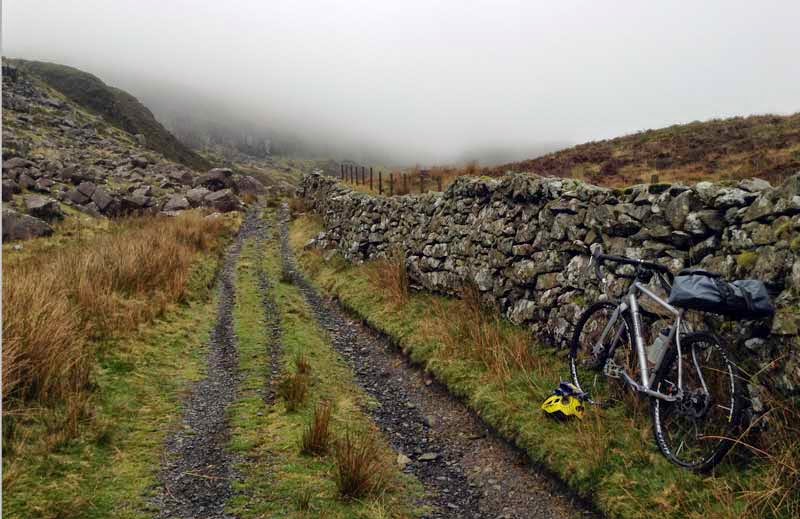 Proving itself off -road as well as on.

If you're in anyway fashion conscious and are easily swayed by glossy images dreamt up by marketeers, portraying cycling as a trendy, sophisticated 'lifestyle'. Just the word 'saddlebag' is likely to be enough to shatter all your illusions. The mental images you harbour of endless switchbacks, famous alpine cols and smooth tanned thighs the size of trees will have been replaced with Derek from Morecambe*, slogging it out over some barren, northern moorland with only the rain and his pipe for company … if that's you, off you go, you might as well stop reading now.

Alternatively, maybe you're the type of person who isn't swayed by fashion, perhaps you're someone who knows that rides can be fueled with a Tunnocks tea cake and a mug of tea instead of powders, bars and potions? If you are that type of person, then (a) read on and (b) you've probably already realised that Derek's two thirds of the way through a 400km Audax and has only eaten two jammy dodgers since breakfast.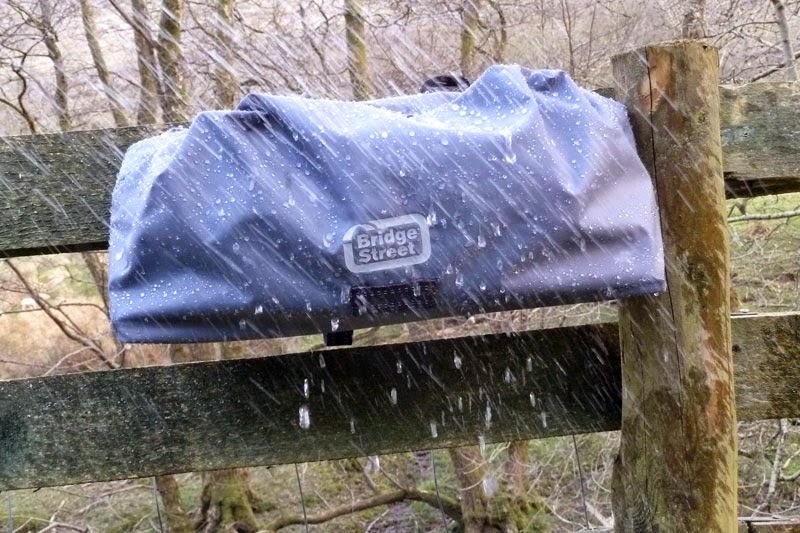 Did I say it was waterproof?
If you've clicked on the link at the top and read the introduction, then you'll know that this is the largest of the Bridge Street saddle bags. At 15 litres it's a fair old size, in fact if conditions are good, then it might be large enough to fit everything in required for a swift over-nighter. You'll also be aware that the saddlebags attach by means of a quick release bracket, which is available in either a long / high or short / low version. I've tried both sizes on different bikes and have found that 80% of the time the longer bracket suits me / my bikes better … the short variant does bring the bag in closer to the seatpost but you might find you need a substantial amount of post showing to avoid any clearance issues. However, I'm sure a smaller bag would suit the shorter bracket quite well.
The top of the bag opens up fully, so you can easily have a good rummage about when you're looking for that errant glove you can't find. It also closes fully by means of a roll-top closure (think dry bag), which I'm happy to say, makes the bag waterproof. Actually, the design is very clever and the material is actually a double layer, with the inner acting like a secondary liner, so even if you're truly clumsy / careless / inept and manage to put a hole in the outer, the contents should still remain dry. There's a large zipped pocket inside which is useful for those more important items but that's it, no dividers, straps or superfluous things you're unlikely to use … just lots of space.
To help keep your packed load secure, there's two cunning compression straps on the outside of the bag. Why cunning? Because they're endless. I'll admit that it did take me a few minutes to figure them out but once you've got your head round them, they're amazingly quick and easy to use. In a departure from more traditional saddlebags, the Bridge Street variety feature a flat rigid base / back. This makes them very stable, with absolutely no swinging even when standing on the toughest gurn inducing hills. Generally, it also makes packing easier … it's easier to pack a suitcase neatly than it is a duffle bag. The flat base does mean you need to think a little about how you pack things though. It's no good putting a camera and a can of coke in there and expecting them not to slide around, remember, although the top / front of the bag will compress and contour to the contents, the back and base won't … it's not really a problem but when you're used to soft rather than semi-soft luggage, it's quite easy to overlook.
The saddlebag has accompanied me on numerous rides from 10 miles to 130+ miles. It's carried everything from a sleeping bag to fresh cream chocolate eclairs (2 pack) without causing me a second thought. We haven't jumped and tail-whipped our way across the countryside but we haven't avoided the rough stuff either. I don't think you can't re-invent something that already exists but you can take it and with a fresh pair of eyes, modern materials and attention to detail … improve it, which I think sums up what Bridge Street have done here.
Available in 5 colours and 3 sizes with prices starting at £60. Bridge Street
*No offence to anyone called Derek or those from Morecambe.