If cycling is the new golf, then I reckon bikepacking is the new cycling. Judging by the amount of publicity and hype surrounding it, you'd imagine that all the trails across our glorious island would be overrun with people heading for bikepack nirvana … but strangely, they're not. The sight of a loaded bike might not be as unusual as it once was but a 'sighting' is still enough of a rarity to stand out as something slightly unusual. To me, it seems a little odd that so much media attention results in such a small number of actual tyres on the ground. Seemingly, there's an entire industry telling everyone that they'd benefit from adding a little cycling adventure to their life but is their message getting across loud and clear?

In an effort to try and help the situation and perhaps encourage more of these potential packers, I thought I'd write something to reinforce and hopefully reiterate the media message. In order to keep things as simple, straightforward and accessible as possible, I've broken the subject down into individual sub-categories and seeing as how we're talking about bikepacking, what better place to start than with the bike itself?

It's true that you can use any kind of bike for bikepacking … but I wouldn't. Numerous points of view will be aired when it comes to any discussion about what type of bike is best. Some people will talk about weight and efficiency, others about reliability and practicality but really, they're all missing the crux of the matter. Take it from someone who knows, the simple truth is – if you want to go bikepacking, then you need to buy a fat bike. Now, it may surprise you to learn that the reason you require a fat bike isn't due to any riding qualities it may possess. On the contrary, you'll probably spent much more time pushing it than riding it but that's beside the point. No, the reason you need a fat bike is because tyres narrower than 4″ wide don't show up well on Instagram or FB and therefor, they don't paint you in your best light. Remember, your bike will be viewed as an extension of your character and a direct indicator of the level of adventure you're undertaking. It should go without saying that you want people to view you and what you're doing favourably because if they do, you'll get more 'likes' and more 'shares'. If for whatever reason, you're unable to find something with 4″ or preferably wider tyres, don't fall into the trap of thinking 3″ 'plus' tyres will suffice, honestly they really won't do. Instead, I'd suggest you go in the opposite direction and get something with skinny tyres, however, to pull that off convincingly, it must be fitted with some kind of peculiar drop handlebar and the odder and more obscure they are, the better the results will be.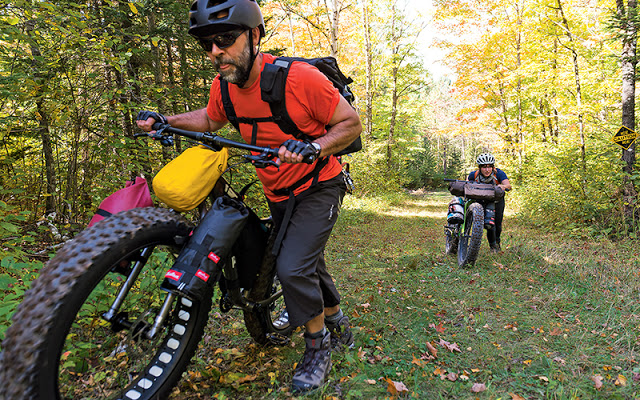 Bikepacking and luggage go together like Foie gras and wholegrain toast. When you're buying your bike ask the vendor to supply you with a full set of luggage – don't concern yourself with the brand but do make sure that it all matches and ask them to include as many little bags and pouches as possible. The more bags you've got, the more space they provide and the more stuff you'll be able to take with you.

With your bike taken care of, it's time to look at some of the items you'll need to take with you. Some you may already have, some you may need to buy and others you might choose to forego entirely.

Food … what could be better than cooking up a basic yet hearty feast out in the woods? Lots of things. Do you really want to be eating half raw sausages for main with a super-noodle dessert? Wouldn't it be better to pick something up from Waitrose on your way? You'll likely be stopping to top up your Evian anyway, so no harm done. Maybe some feta, stuffed olives, a little sushi and half a bottle of something white and light to round it off? Come on, doesn't that sound better than a metal bowl full of barely warm instant gloop? If you feel that you really must try cooking something, then you'll obviously need a stove of some sort. There's a bewildering number available but I'd suggest that you limit yourself to a gas stove. They're convenient and fast. They don't smell funny and are similar to what you're used to using at home. However, it's far easier to simply carry one of those plastic sporks with you. A photograph that contains a plastic spork will instantly give the impression of camp-cooking without any of the associated hassle or potential food poisoning issues.

Clothes … After riding four or five miles you'll probably want to stop for the night and when you do, you'll need something warm to change in to. It might surprise you to learn, that you only require two items of additional clothing. The first and most important, is a woolly hat. Ideally, it wants to be too big for you and very bright. If possible you should choose something stripy and in preference, the top should be festooned with a big bobble. The second item in your bikepacking wardrobe is a jacket, a nice warm jacket. Buying the right jacket might seem like an expensive extravagance but it's worth making a considerable investment here as it really will pay dividends later on(line). Again, pick a nice bright colour to add a little contrast to your drab green / brown surroundings and above all, buy something with a prominent brand logo on the left hand breast. The possibilities here are endless but I generally think something from Rab works well for most people. It's a name that indicates quality and seeing the logo will leave no one in any doubt about how seriously you take your adventuring. It goes without saying, that whatever brand of jacket you buy, it should be filled with down. You will hear 'internet experts' advising the use of synthetic materials believing that down will turn into a big, clumpy mess should you get it wet – well, let me set the record straight here and now. That's just a ridiculous notion as evidenced by the fact that both geese and ducks can swim and besides, who in their right mind would produce a jacket that you can't wear in the rain? Think about it for a minute, then make your own judgements.





Sleeping … I'll let you into a little secret, only bearded 'bushcrafters' and SAS wannabes sleep under a tarp. I mean, why would you? The outside is full of slugs, spiders and all manner of creeping, crawling nastiness and the night time is when they all come out. A tarp over your head won't stop slimy things hopping into bed with you for a cuddle. No, forget about tarps and get yourself a tent – a big tent, with lots of room to get changed into your hat and jacket. Something solid and sturdy that can block out the night and all the horrible things it contains. You needn't spend a lot of money on your shelter because on a photograph most people can't tell the difference between an expensive tent and a cheap one. However, it is worth giving the colour a little thought – I suggest going for something subtle and green. It may not be exciting but it will make your accommodation harder to spot for park keepers, groundsmen and dog walkers.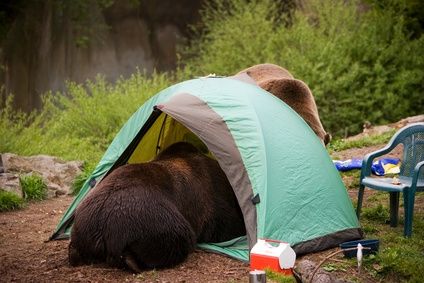 As with your tent, a sleeping bag shouldn't be expensive, after all, you're only likely to use it once or twice a year and just how cold does it get in Romford in July? Stick to a well known brand such as Tesco or Aldi and you won't go far wrong. Colour is largely irrelevant seeing as it'll spend most of its life squashed into a stuff sack in the loft, so let personal taste be your guide.

Safety … Bikepacking is not without its risks, so carrying certain emergency items is essential. The first thing to pack is a head-torch, a big one. Given the levels of light pollution you're likely to encounter, it'll probably never really get dark enough to warrant but that doesn't mean you shouldn't have one. Don't worry too much about modes, outputs and things like that, simply make sure it's a big one and that you put it on as soon as you stop for the night and don't remove it again until next morning.

No bikepacking trip can ever be considered a success without a fire. Cutting enough trees down to produce a worthy blaze takes a little effort, so an axe is always worth carrying. You might be able to simply pull some smaller branches straight off the trees but once your fire's going you'll need some big logs to really get it roaring. Rather than going to the trouble of cutting a big log into smaller pieces, you can save time by simply cutting down a six to eight foot high tree and throwing the whole thing on. You must remember that the embers of your fire may still be hot the following morning – so throw any rubbish like cans or bottles on there before you leave.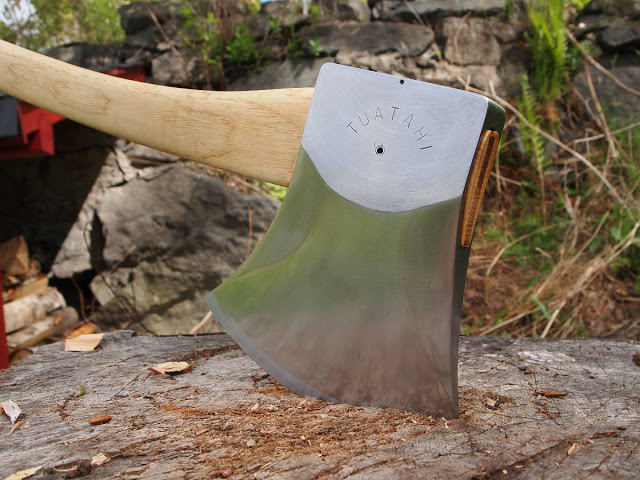 Well, I think that pretty much wraps things up. Hopefuly you've found the above informative and as you can see, the media are right … you really don't need much to enjoy a night away on your bike with nature – enjoy.