I'm not really a big fan of the cold, snow and ice but some people seem to love it and Karl Booth is one of those people. Recently returned from Alaska, he kindly agreed to answer some questions about his time competing in the Iditarod Trail Invitational … thank you Karl.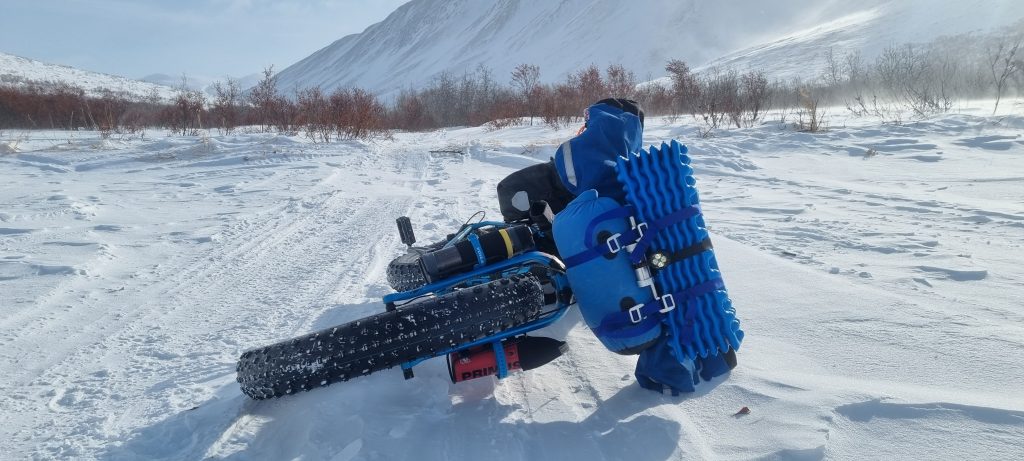 1/ The Iditarod sounds like my idea of a very cold Hell. What drew you to it rather than a race in a more temperate location?
The idea started probably around 2015. I like to push myself and find harder challenges each time so this seemed to tick those boxes. I've always been drawn to winter conditions as well. We've been dog sledding in Sweden back in 2013. A winter holiday always sounded more appealing than a hot summer one. And probably all the bearbones 200/300 events make you numb to feeling…anything!
2/ Obviously conditions are very different to anything we're likely to encounter in the UK, so how did you go about training?
Yeah, about that. I'd made the decision not to go back in late December. I was going to defer until 2024 as I was in the throes of starting a new business so money wasn't free flowing. Then I read the T&C's and found out I couldn't defer or get a refund so had to step up. So I had two weeks on the turbo trainer then 2 weeks at the sewing machine and in the garage chopping metal to get ready. I wouldn't recommend this training plan. Watching Safety to Nome and Shackleton's Captain on Amazon was about as much acclimatisation I could muster.
3/ I believe quite a few competitors suffered with frostbite – how did you manage to avoid it when others didn't?
It was a real wake-up call on the first night seeing so many people suffering with frostbite. You're aware that it can happen but until you see it happening before your very eyes it always feels like a distant possibility, and only if things start going wrong. Most of the people getting frostbite might have made mistakes, but they were small, almost unnoticeable mistakes but the punishment is harsh.
I kept to a plan of having many layering options. Not thick layers, just lots of thinner layers. I worked on the concept of removing moisture from my skin and first few layers with my body heat. When it got really cold, I covered all my exposed skin, even using my yellow bearbones winter event buff. RJ Sauer told me to keep my liner gloves on whatever and treat that as my skin, this was sound advice as well.
A final thing to note was you needed to be quick, not rushed when stopped and sorting kit. As soon as I started to feel the cold I would immediately work to get warm again. This could be putting more layers on, adding more intensity or getting off and walking.
4/ Were there any points where you were genuinely concerned for your safety?
No. I think because of the lack of training and needing to just finish I took my time and made good choices. Apologies to folk watching the slow moving dot. I did take time to ride with others. Sometimes for companionship, other times to give them reassurance and confidence as this was quite a stressful experience for many.
5/ Just how cold did it get?
This first night was the coldest. It definitely dipped below -35°F (they work in funny units over there) and some reported -40°F. Either way it was very cold. The coldest experience I've ever had outside of Wales. We did have a warm glow from the Aurora Borealis which was stunning but probably wouldn't keep you warm.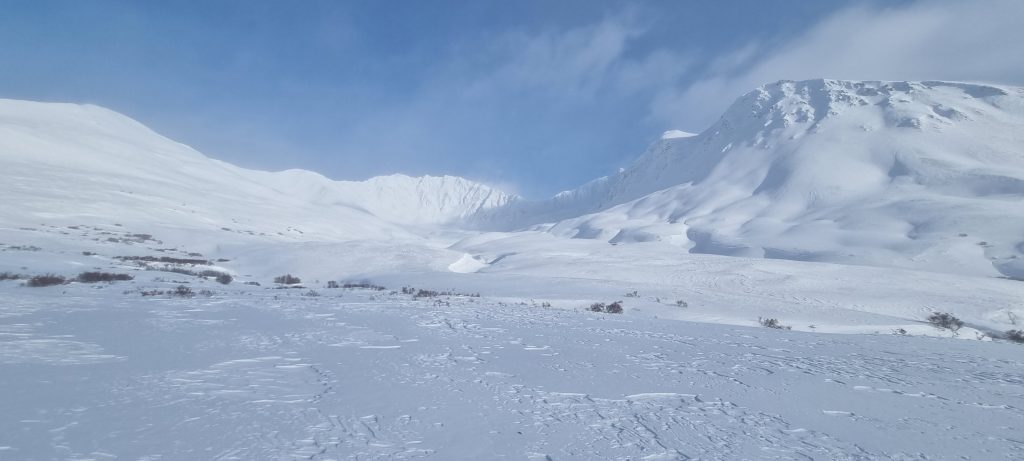 6/ What did you do for shelter and sleeping – bivvy bag or did you use huts?
For the 350 mile race there are a lot of checkpoints, trail angels and a safety cabin on route so took advantage of those along the way. I did bivy out one night and got snowed on. To protect me from the elements I used an Outdoor Research Helium Bivy, a Rab Expedition 1200 Sleeping Bag, and a Cocoon Vapor Barrier MummyLiner.
7/ What were you riding and would you ride the same bike again?
I was riding my trusty Felt DD30 from my Norway trip back in 2017. Just changed the bearings before this trip which is pretty amazing. I did replace the grease with some low temperature grease just to save a few watts. Rich and Shona at Keep Pedalling helped me kit it out with a Salsa pannier rack and some Ortlieb gravel panniers which worked really well. Would I ride it again, yes. But Shona mentioned she could possibly get me a Salsa Mukluk in stock, that'd be really tempting!
8/ How / what did you eat? I imagine cooking would be far from simple.
Not one to make it easy for myself I got diagnosed with an overactive thyroid (Greave' Disease) and some studies have shown really positive results by following a vegan diet. So I've been vegan since September. Alaskans eat meat and cheese so to keep up with my diet I had to send most of my food out. Breakfast consisted of porridge (sorry I mean oatmeal). Lunch was noodles but usually ended up eating that at the end of the day or in a checkpoint. Noodles on the trail was a good idea but was never practical. Evening meals were dehydrated Firepot meals. So many of their range is vegan, which was great. Snacks on the trail were gingernuts, oat or Oreo biscuits and occasionally Trek bars and a bit of vegan chocolate. I did also pack a few vegan fruit cakes which hit the spot.
9/ What didn't you take but wished you had?
Nothing from my kit at all. I wish I'd taken more fitness. And I wish I'd done some daily video diaries as I enjoy watching my slow decline 🤣
10/ I know you tend to relish adverse conditions more than most but were these the most adverse you've ridden in (if you discount that winter bivvy over the Kerry Ridgeway)?
I think conditions, and the amount of adversity that comes with it is a reflection of your kit, knowledge and confidence. Out in Alaska, I had the kit so even in the bad times I was able to keep myself comfortable. I think the Highland Trail in 2019 was adverse for the first 48 hours and my kit put me closer to the edge, so I think that might be up there. I actually got frost nip on my big toe at the BB200 in 2014 descending into a valley through a mist cloud so that probably needs a mention as well.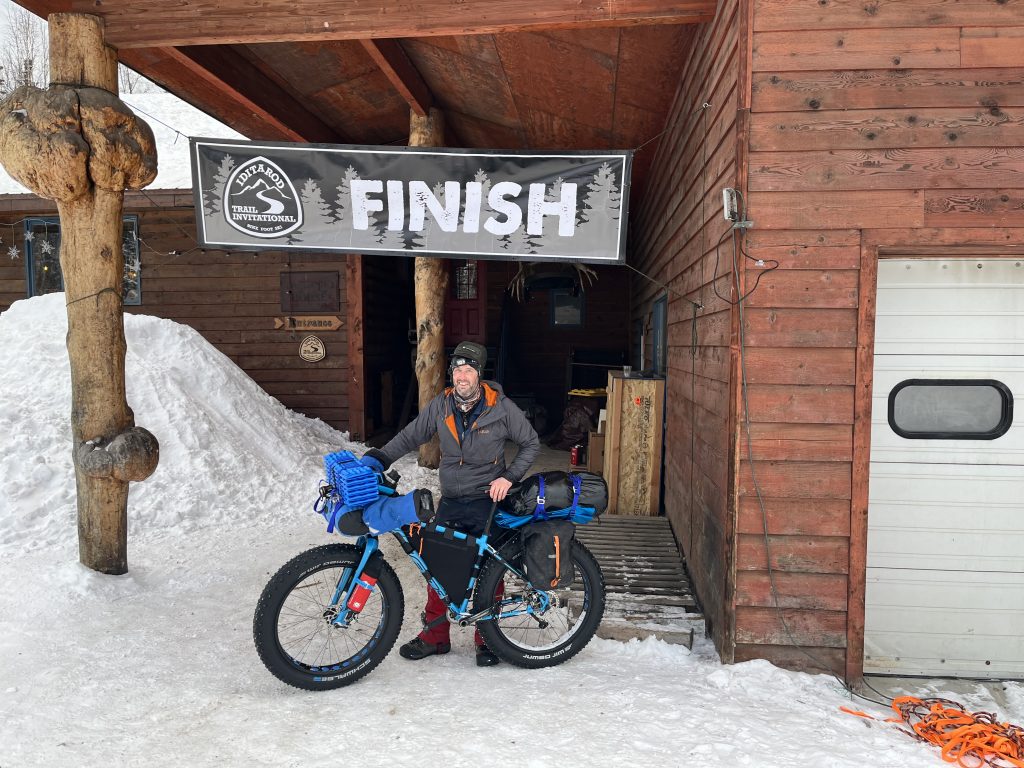 11/ Any plans or desire to attempt the 'long' version?
Cat (my wife) has already told everyone I'm doing it so it seems like I've been kicked out of the house for the whole of March 2024. Entries open on 1st April which gives you barely anytime to mentally recover before starting the process over again. So looks like I'll be putting an entry in for the 1000 mile version.
12/ Do you have a single piece of advice for anyone else daft enough to think it's a good idea?
No, not one piece of advice. I have several.
This isn't a normal race, don't expect to ride every bit of the trail. I walked big chunks, about 15 miles on one of the days. Most days included some walking.
Do your research, don't rely on being told what kit to use. Everyone is individual. And expect to make or modify equipment to make it work.
Know how and when to use your kit.
Take time to stop and look around you, Alaska is beautiful and I feel very privileged to have experienced it.
And even the toughest day on the trail is better than a good day in the office, who's daft now!