Brant Richards is a name many of you will be familiar with. He's been involved with mountain bikes in one way or another since their inception in the UK. Over the years he's been responsible for numerous designs, many of which we're happily riding round the countryside. If the snippets we've seen so far prove correct, then his latest venture, Pact Bikes looks set to produce some of the most original and interesting things we've seen in a long time.

In an effort to find out a bit more about the man whose 'creations' many of us ride, we sent him 10 questions, he duly sent 10 answers back … enjoy.

1. You've been involved with the bike industry for what seems like forever, what was your first (bike related) job?
I bought my first mountainbike from Two Wheels Good in Leeds in 1986. I used to go in there often and sort of hang out and make a nuisance of myself. John Stevenson worked there. They somehow rang me up one weekend and said they had a Saturday job so I went in for a tryout, and inspite of turning up in ripped jeans, 1hr late, they kept me on. I found out years later that they only called me because my mum had rung them and asked if there were any jobs going!

Two Wheels Good was a pretty incredible place at that time. Stevenson was shop manager, and it was him who rang MBUK when we first saw their bike reviews and features to tell them that they were pretty rubbish, and we could do better. Which is how I ended up being a journalist.
As well as the writing, we had a race team with Deb Murrell riding for us, as she shared a house with John, we had a frame building shop upstairs where I spent many hours making weird stems and bars and frames under the guidance of Andy Morris. We re-rolled rims like we heard Bontrager did. We organised club meetings in Fat Freddies Café in Leeds, as well as rides and races which were attended by industry stalwarts years before they had industry jobs – like Tim Flooks (TF Tuned) and Harvey Jones (Wiggle), Steve Wade (Orange).
It was really weird and special looking back. It's rare that you're given a chance to be involved in a sport at such a crucial time for it, and I consider myself very fortunate in lots of ways.

The journalism paid for beer on my way through university, and by my final year I was making about what they were claiming engineering graduates would earn. So I just carried on freelancing. I designed and had Dave Yates make a frame for my girlfriend at the time, which she sold for a bit – a low standover women's bike called a Smart Tart with an internal headset to drop everything low – that must have been in 1992 I guess. Then the journalism carried on through MBUK to editor of MBR, Editor in Chief of Front Magazine, then onto Bikemagic. When I fell out with the Bikemagic guys over a review I wrote that they wouldn't run (of a Whyte PRST-1), I ended up offering to make a website for Dave at Planet X. When I visited him, I found the singlespeed sample he'd had made a year or so earlier, and over some tea and biscuits, On-One was formed. And so it began.


2. What's the one design you're most proud of?
The On-One Summer Season always makes me smile, as it was a rework of an existing model, and did at the time push the sticky flaps of the performance envelope with it's super slack head angle. The Ragley TD-1 was a lot of fun too, and it was a very great delight to me that Steve Worland really liked his. Seeing the World Cup DH race where the Nukeproof Scalp DH bike premiered was extremely exciting. As was watching Julie Dibens win a World X-Terra race on a prototype On-One FS softtail. So I couldn't call it really.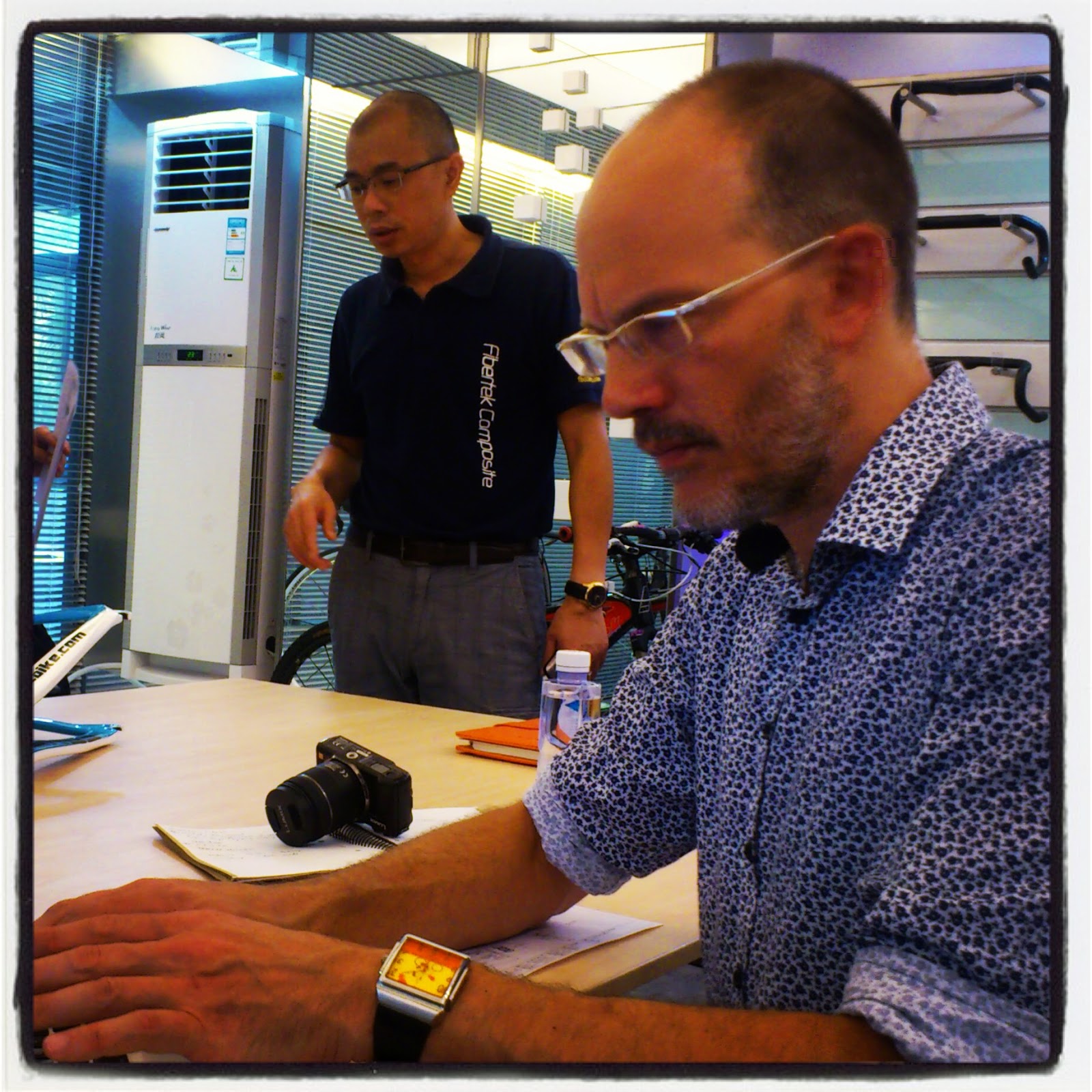 In a secret facility, in a land far away – perhaps.
3. The UK's unsung cycling hero … who is it?
Chris Young has always been someone very special in my eyes. He's from Bradford, hard as nails, and I remember being dragged by my dad to Myrtle Park in Bingley, age about 10 or 11 I think, to see "Youngy" racing cyclocross. So that's a long time ago. He's always ridden. Cross, Mountainbike XC races, and then last week, I spotted him in a shot with Jack Clarkson, our best U23 Rider at the cross worlds, because Chris works with British Cycling now. He's an absolute legend, and what he's giving to the sport is just brilliant.
4. If you were building a frame to race the Tour Divide on, what would it look like?
The new ti rigid frame I've done for Alpkit! That'll run 650B+ or 29 – I think for TD, you want 29 on though. A set of aero bars to mount stuff on and stretch out for a long day in the office. Some sort of sweepy bar, even a moustache bar maybe. I love those. Rigid fork. SRAM 1x.

5. Any thoughts as to why steel hardtails continue to remain popular in the UK?
They are incredibly popular still, in spite of the the EN regs that came in, with tests that literally tore nice steel bikes apart, but were passed with flying colours by cheaper lumps of alloy was the deathknell for many nice steel frames. Well, the EN Regs and the lengthening of suspension forks, and also bigger wheels. Quick sum – on a 26in wheel with a rigid fork the crown race is 725mm from the floor. With a 29in wheel and a suspension fork, that's 845mm. Add in the extra bracing force due to the extra traction and the sort of energy you can put into the bike is massive. There's at least 1.5 times the load going through the bike with that extra length, and those old springy tubes just can't cope with it. Charge did some amazing work recently with their Skinny Duster though. That bike was alive!
Steel is tough, and durable. Though really the repairability is a thing that's often over played – if you want true repairability, don't coat your frame internally with frame saver as that makes rewelding a nightmare! But for dropouts and things – when I was 16 on a tour in Wales, I sought out a welder to MIG up the dropout on my Muddy Fox Seeker.
Perhaps it's just a wonderful British thing. It's actually forged into our DNA. The manufacture and working of steel is such an almost religious thing in this country, from Ironbridge to Sheffield and beyond, that it's something that's very easy to be attracted to on an almost religious level.
All that said, look at what Mike Hall rode around the world on in record time.

6. Can you confirm or deny that Luxy bars are set to make a return?
I really hope we can get it rolling again. It's looking probable. They won't be Luxy bars, as that's a Ragley brand, which stays with Hotlines, but they have given me their blessing to release the shape again.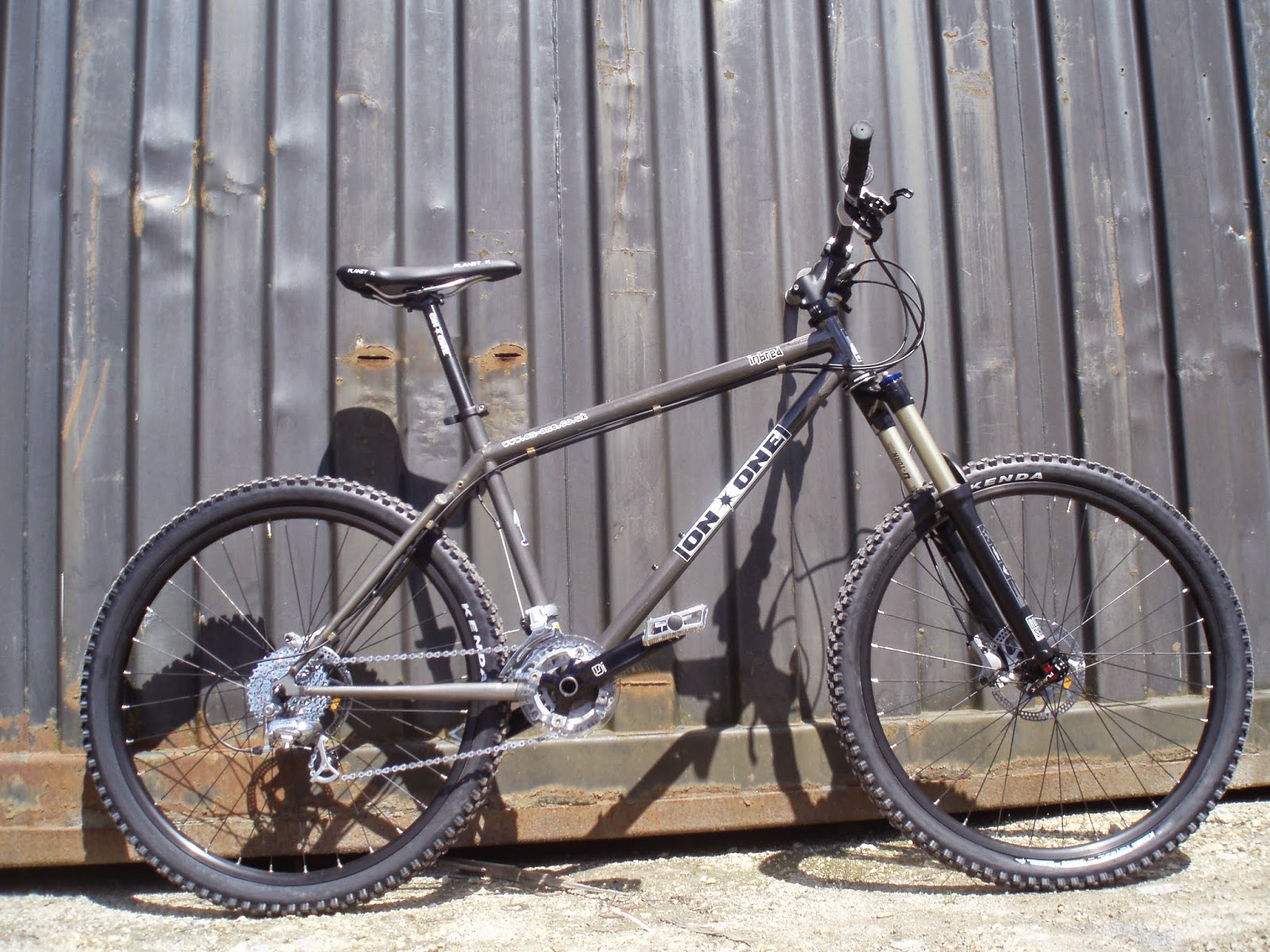 The Summer Season – slack before its time.
7. I believe you bought a Stooge? What is it you like about it?
Oh I'd forgotten about that! I'd better talk to Andy. I am going to get one, but I've been really busy and haven't sorted it yet. I am currently (mountain)bikeless, just riding a sort of gravel/CX/Dirty Road prototype, and trail running a lot. I liked the Stooge a lot. I like Andy a lot too. That guy has big balls, and launched that brand off his own back, without Kickstarter or any VC investment, drew it all in pencil on a drawing board, and made a great frame that's somewhat idiosyncratic and arrogant, and really works well. The mixed-up 29 rear, 29+ front is fun and cheeky. We rode together briefly, though he crashed really badly on the first downhill trying to ride my bike, meaning we had to cut things short. He's promised to come back for a rematch though.
The handling is really fun. Light but stable. And a cool "snakehips" style ability to move the back end about on the bit of trail I rode it on.

8. Pact Bikes is your new company … is it something you've wanted to do for a long time?
I like designing frames. I do it most days in my head. I like solving problems. So, that, coupled with the fact I've always been quite a fan of disrupting the conventional business channels and ways of doing things. Pact does that. We work with riders whose ideas we like, and then they get a royalty when people buy their frames from us. We're working in titanium right now, because the factory (in China) that I work with can do one off or mini production runs easily because of the way that titanium production runs work – in a less productionised way than (Far Eastern) steel frames are made.
Pact lets us do odd, different, lower volume things. It's fun.

9. Will 2015 be the year of 650b+?
Though there's a huge amount of interest in B+ one of the best things that's occurring is a sort of common "rolling diameter" theme establishing itself. So there's 26in fat bike tyres, B+ and 29in tyres all coming within a "bit" of each other, which means that the options for fronts or rears of bikes are wider. So actually the disparate "standards" are actually offering more options instead of less. Which is good, yeah?
Certainly B+ could be seen as a reaction to fat bikes being perhaps, over-tired for some styles of riding. And a reaction to the ride quality that 29+ offers, but in a size that makes actually getting it on a bike easier for riders who are under six foot odd.


10. What do you think about the 'new standards' the industry seemingly continues to launch, have any in the last 5 years actually made bikes better?
Are the bikes of today better than they were 5 or 10 years ago? Unquestionably the answer to that is yes. Is it hard to maintain a bike from 5 or 10 years ago, and keep it current? Clearly in terms of fork, wheel and tyre options, that's becoming a yes. My dad and my uncle bought video recorders on the same day. My dad bought a VHS. My uncle bought Betamax. My uncle's was far better quality. And they are both redundant pieces in the attic now I can stream any film I want off the internet.
I'm not sure that's a useful comparison, and I can understand the frustration of people who think that 650B+ Boost bikes are going to mean they can't get any update on their 26in wheeled Rohloff machine. But those people that hold onto the older standards will always be supported by similar people who have such things close to their heart. Duncan MacDonald who started Pace now makes spares for Pre-1965 trials bikes. And if you can keep those going, I'm entirely sure that people who want 26in parts, and straight steerer forks will be OK for a good few years yet.
Boost148 (rear) and Boost110 (forks) are great new standards, giving better chainline, clearance, tyre size, wheel strength from the wider dropout standard, but retaining the narrower Q factor that many riders prefer over 83 or 100mm BB's. We're making a bike with a 150/157mm rear hub and a DH crankset for taller riders – that works well and doesn't need a new standard at all, but in lots of ways, this wider hub standard – at the front too, to give more steering stiffness and wheel support – is what Doug Bradbury was doing with his custom made hub sets on his Manitou bikes back in 1990. Which we used to pour over, at our club meetings, in Fat Freddies Café in Leeds.